Interview: Feral Love
The rising Liverpool alt pop duo chat about their new single Like the Wind and future plans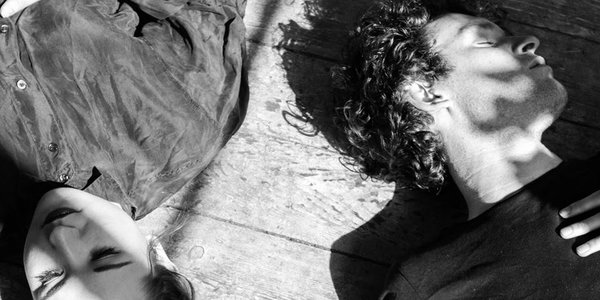 Comprising of Adele Emmas (vocals/keyboards) and creative partner Christian Sandford (guitar/programming), Liverpool alt. pop duo
Feral Love
have been building a sizeable profile over the past six months.
Led by Adele's affecting otherworldly voice and her and Christian's deep-pile electronic textures, the duo recently issued debut single Like the Wind, a dramatic synth swept piece that landed on Huw Stephens' BBC Radio One show a few months back.
Proof of the song's power impressively, the version aired on the Beeb wasn't even the finished cut but a demo version. 'We went into the studio, we had a rough mix of it done that night then it was on radio a few days later' Christian recalls. 'It hadn't been mastered yet'.
The pre-history of Feral Love has its roots in acclaimed Merseyside ethereal wave quartet Bird, who released wonderful debut LP
My Fear and Me
in May 2014 and played a succession of increasingly brilliant gigs, culminating with an appearance at the BBC 6 Music Festival in Manchester supporting Damon Albarn.
Proceeding along at a fair clip, calamity struck somewhat when the group received a cease and desist letter from an artist who held the rights to the same name. At something of a crossroads, the band split amicably in November 2014, with Adele and Christian instantly deciding to forge ahead with a new project.
'With Bird a few things happened at once which made the whole thing come crashing down' Adele explains sat in a Liverpool city centre café. 'We see it as a really positive thing now, we saw the legal thing as a chance to start again. It just left with me and Christian really, there wasn't a second where we thought about stopping, that wasn't a possibility, we just thought how can we adapt and go on from here?'
Instead of sitting around wondering what to do next, the pair immediately threw themselves into work. 'We carried on making music, we've got a studio on Duke St. (near the site of former legendary Liverpool venue The Kazimier) which we've been in for nearly a year and a half now. We've got so many ideas and so many songs, we just ploughed on through' Adele states. 'It took us a few a few months to create one song that we really liked and after that it just start flowing. Since then everything's just been stepping up and improving' Christian explains. 'It was us finding our feet' Adele nods.
After spending by Christian's estimation '18 months' writing, the first fruits of the duo's labour,
Into the Fire
appeared on YouTube. Recorded and date stamped 11/01/16, the day after David Bowie's death, the track signalled the band's satisfaction with the material after over a year's worth of experimentation.
'It felt a long time in a lot of ways, it felt like it was forever and we were like we wanna be out there again, but then in some ways it feels like it's only been five seconds. That's all we literally did over the past year and a half, home to work to the studio on rotation pretty much' Adele says of time spent bunkered down. 'We could do a year's worth of bootleg albums' Christian smiles.
'I remember that the first song we had a breakthrough with was one called Ruins, which is one that we play in the live set and that's been through so many changes'. Adele recalls. 'I remember us jamming that out in the practice room one day, coming up with the chorus for that and feeling like 'This is the start of something. I think after that came Wonders of Youth which is a possible second single'.
'After a lot of really long hard slog, and after everything really falling apart it was just the thing of going down to the studio every day rain or shine, just plodding on. Eventually things started to happen, once it did it just snowballed and then we found our way in terms of how we work together' the singer recalls. The two tracks, an extended electro stomper and noon-bright synth pop song respectively showcase how productive the writing sessions have been.
Finally deciding on a name part inspired by Angela Carter's short story collection
The Bloody Chamber
, ('We liked the word feral and that it represented something wild and untamed' Adele explains), Feral Love made their live debut in Manchester this April. When we play live and in the studio there's Grace (Goodwin, session musician) who plays drums for us' Christian states. 'Grace is a great drummer who really adds to the live sound, so live there's three of us but it's effectively a duo' Adele adds.
Fortuitously with less than a dozen gigs to their name, an-offer-they-couldn't-refuse live opportunity fell into Feral Love's lap. 'We were messaged, 'Just throwing you a mad curveball here, do you fancy collaborating with this band at Liverpool Sound City and in return you get to go to Canada?' And we said 'Erm… let me just think about that one!' Adele recalls laughing. 'It's an amazing opportunity'.
Effectively an exchange visit with Lebanese/Canadian electronic duo Wake Island, the two bands are collaborating on creating music together, with the added piquancy of it understandably being done remotely. 'It's part of a big ongoing thing, an art piece almost' Christian explains. 'Hopefully from the two shows it will develop and we'll document the whole thing and create something cool out of that. We've been talking on Skype with them, they're on the same wavelength as us'.
With the Liverpool leg completed, one of two Feral Love-featuring performances over the weekend at the festival, the away fixture takes place in September at Pop Montreal festival (the impressive line-up includes Holy Fuck and The Kills).
'The synth has been a big influence in terms of what music we're listened to over the past year' Adele says of recent inspirations. 'What guitar we did use we wanted to use as sparingly as possible. I remember that at the beginning saying that we wanted the simplicity of things to come through'. 'Live there's quite a lot of guitars, but it's a lot more electronic based' Christian nods, 'a lot more loops and samples'.
With the duo trying to trigger as many of the samples and loops live as possible manually, the nerve wracking thought of hitting the requisite button too early/late and 'everything turning to shit!' as Adele laughingly puts it is a factor onstage. 'We've spent the last three or four months making sure that doesn't happen' Christian says of ensuring musical cues aren't missed. 'Cos the drum machine and the sampler aren't actually synched up, which there probably is technically a way to do that, but we don't know how' the guitarist says, 'It's down to human timing'. 'No stress for Christian there!' Adele smiles. 'It does help though, that adrenaline' the singer adds. 'Without that it would be a bit bland, it makes you put that energy into it'.
Another aspect that has developed during the pair's time sequestered away in their studio is the duo opening themselves up to different influences. 'Previously I didn't really listen to any pop stuff really; I feel like we're not afraid of it anymore' Adele states. 'Before we were leftfield and we weren't gonna change, but over the last year and it hasn't even been a conscious decision, like 'Let's make this more accessible', it's just kind of happened' cos our tastes have changed'.
Recent playlists have included sardonic NYC jazz sophisticates Steely Dan plus 'a lot of Eighties synth pop', the roster of French electronic music label Kitsuné and acclaimed, recently defunct Montreal synth pop project Majical Cloudz.
Lyrically meanwhile the duo have plenty of fuel for songs. 'It's about our lives over the past year and a half really, a reflection on that' Adele says. 'A lot of what happened with Bird and that time in my life it felt like there was a lot of things falling away, the band, a loss of people and circumstances. But in that way it like going into a new phase of life, so a lot of it is about the loss of things but gaining new experiences'.
The release of Like the Wind is being handled by The Label Recordings, whose alumni include Hooton Tennis Club and Seawitches, with the label instrumental in paring Feral Love up with producer Chris Taylor.
Tracked in famed Liverpool recording mecca Parr St. Studios, Bill Ryder-Jones/Hooton Tennis Club helmer Taylor was instantly the right fit. 'He's really helped us find our sound to be honest' Adele enthuses. 'The way we work is to take what we consider an almost finished track recorded in our little studio into Parr St. then we'll add to it and record more parts, it makes the process a lot quicker as well. It's definitely not a case of getting in there and seeing how the song develops, the songs are done and we've thrown everything at it, it's all on the demo, then we get in there and decide what we want to keep' the vocalist explains.
'Sometimes we record on a phone and it'll just be forty minutes of us going over the same thing again and again, then we might think about putting some kind of structure to it' Adele explains of song writing. 'There's loads of stuff that we've forgotten about. I've got over a thousand voice recordings on my phone that I need to sift through, there's loads on there that we could use. I've even listened back to some stuff and gone 'When the bloody hell did we do that, is this
us
? And it will be!'
Accompanying Like the Wind is the band's first full-blown music video (see below) directed by the duo and Clare Heney. In keeping with Bowie and Kate Bush drawing inspiration from modern dance and performance art (both were students of choreographer Lindsay Kemp) Serbian performance artist Marina Abramović influenced the startling clip.
Partially inspired by Abramović's 1980 piece Rest Energy with her then-husband, German artist Ulay, a quote from Kafka's
Metamorphosis
at the top of the video unlocks the concept behind the promo. 'It seemed to explain the video and the meaning behind it in one quote really' Adele notes. 'We wanted people to understand it before watching it, so they wouldn't be 'What's going on?'
'It was kind of a therapeutic process for people' the singer recalls of the participants in the clip. 'We had to get them into a certain headspace, of almost feeling grief before that so we had to give them a little talk before they had their shoot. During filming we were behind the camera prompting them. All the walls of social constraints, the mask you put on to people had completely fell down. Everyone was thinking about personal stuff they'd gone through and put it into their performance, I loved the experience of having no mask on whatsoever'.
'The individual performances on it, we've gone back and watched them individually, the
intensity
of some of them are incredible' Christian emphasises. 'You did see a side of people that you'd never seen before really' Adele agrees.
Looking ahead Feral Love's next move beyond upcoming live dates (see below) is to create their own schedule. 'I think when you're a new band, the question is 'When's your album out?' and that's not on our radar at all, we just want to keep putting music out and not go for the standard 'We'll do an EP' and 'We'll do an album'' Adele says. 'We just find it exciting to do it that way, really. We want to build up a fanbase first really, a lot of bands put out albums which that are great but sometimes get missed cos it's out too early and can just slip past people'.
'Maybe we should put the entire album out on eleven different flexidiscs, or release it as a magazine maybe…' Christian wonders out loud. 'I think for now we're just excited to release tracks' Adele smiles. And judging by the ones that Feral Love have created so far, many people will feel the same way.
Like the Wind is out now through The Label Recordings
Feral Love play:

Thurs 9th June, Leaf Café, Liverpool (w/ Samaris)
Sat 9th July - Buyers Club (w/ Aristophanes)
Sat 23rd - Sun 24th July, LIMF Presents: '76 – '16 From Eric's To Evol, Arts Club, Liverpool
(w/ Clinic, Buzzcocks, Will Sergeant)