Interview: Fatherson
Mikey Reynolds chats to Scotland's Fatherson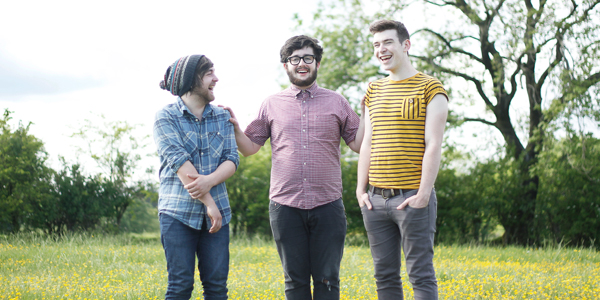 The hype machine is a dangerous thing. Once word gets out about a band, it doesn't take too long for most of the music press to be all over them – and then comes the real work, following up whatever hype surrounds them. Scotland's
Fatherson
are the latest to face up to that very monster, following their well-received 'First Born' single and a storming set on the BBC Introducing… stage at T In The Park, things are moving pretty fast for the band, as bassist Marc Strain tells us.
"Sometimes it can be a bit mental, a few "pinch yourself" moments. We try and avoid getting overly excited about all the things that come up and keep pretty grounded with it as there's nothing worse than people taking themselves too seriously and getting big-headed about it. We're just really happy that opportunities keep arising for us to play our songs to as many people as possible!"
Fatherson come from rather humble beginnings for one of the more hotly tipped groups in Scotland – the band formed some five years ago at Kilmarnock Academy in their home town, and have gone from shows in the school hall, to packing out tents at some of the nation's biggest festivals. It's been quite a leap for the band – so was it always in the plans for this to happen?
"We never really questioned it (as it was happening), which I suppose is a bit weird," jokes Marc, "Greg (Walkinshaw, drums), Ross (Leighton, guitar and vocals) and myself always planned on moving up to Glasgow, so as soon as we were done with school we just relocated and worked on slotting into the music scene up there."
"We were worried that once we left school, the people who knew us and bought tickets wouldn't be interested anymore and nobody would come to our gigs. That did happen but luckily at the same time people started being "fans" instead of "friends" and our shows have been steadily getting busier, which is amazing and something we're really thankful for." When did they realise that things were really starting to take off though? It's easy to see how they grew, with catchy choruses and sold-out gigs, but what made the band realise that "this is it"?
"The real "whoa, we're actually a real band now" moment was a show we played a couple of weeks back in Dumfries. We had played a fortnight prior to that as main support to The Xcerts. It was a pretty good show but when we returned for a headline show we weren't really expecting much as we'd never headlined there before. " "However, the place was packed, everyone was singing along. We even played about 6 brand new songs and everyone seemed really into it. I think that show really caught us by surprise and made us realise that things were getting pretty cool."
As mentioned above, the 'First Born' single was what brought Fatherson to a much larger audience than they had been dealing with before. Released back in April on King Tut's Recordings – the label operated by the same people as the famous Glasgow venue Fatherson had sold out months previously – Marc described the single as: "A highlight of T in the Park for me as I think it got the loudest sing-a-long we got for the whole set…which I hope means people like it!"
"It's a pretty straight-up rock song which I do like but it's not necessarily where the rest of the album is going to go."
The album that Marc alludes to is the band's first full length, which they are currently in the process of recording – a process that has been kept under wraps for the most part; that is, until the band played a secret 'fans-only' show at King Tut's recently to preview some of the new material from the album. So, now that there's been a preview, how far along is the first Fatherson long player?
"We're writing. Got a whole bunch of songs finished, more to start on and a couple of old ones to re-vamp and decide if they'll make the cut or not. We're also looking at producers and studios at the moment - I wouldn't expect anything until next year but we'll be keeping everyone updated as we work on it!"
As for the rest of the year, Marc laid out what plans exist so far: "Just playing loads of shows, writing music and hopefully starting to record the album before the end of this year. We have some big headline shows at The Liquid Rooms in Edinburgh (17th August) and The Garage in Glasgow (12th October). We might even release another single before the year is out… you'll need to wait and see!"
Perhaps the hardest thing for a young band nowadays is keeping both feet on the ground – history is littered with examples of bands that let press coverage and acclaim go to their heads, never to be heard of again. Not the case for Fatherson, as Marc explains:
"Most of the time we are completely grounded as we still for the time being have jobs and stuff, so that is always a good reality check."
"But we get recognised from time to time, especially at festivals and other gigs about Glasgow. That's always very weird but fun at the same time!"
Success, especially around Scotland, has come pretty easy for the Fatherson boys thus far – but the real test now comes next year, with the release of their full-length debut. But on the evidence so far, if they keep to making the same kind of infectious songs that attracted attention, and maintain their humble attitude, it shouldn't be too long before Fatherson are the name on the tip of everyone's tongue.