Interview: False Advertising
The Mancunian noise pop/grunge trio chat about new single Give It Your Worst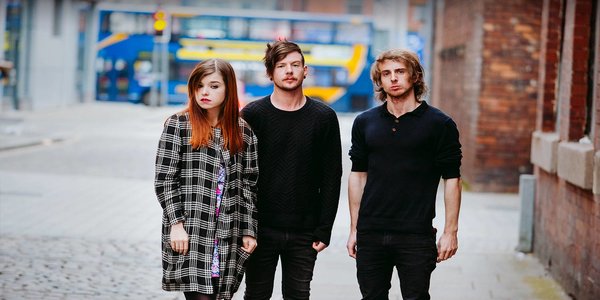 Showing no signs of resting on their laurels, or sitting still for too long for that matter, exemplary noise pop trio
False Advertising
have just added to their burgeoning catalogue with new single Give It Your Worst. Supplementing sulking grunge guitars with indelible vocal hooks and pop song wherewithal the 7" follows on from the excellent
Brainless
EP released in April and their acclaimed eponymous LP issued last September.
Released through the redoubtable Too Pure Singles Club, an excellent showcase of contemporary underground talent (alumni include Pulled Apart By Horses, Dead Skeletons and The Lucid Dream), the track comes replete with new track Scars on the flip side. (Check out the video below). A blistering live act (
review
), onstage as in the studio, uniquely the group feature two lead singer/guitarists, Jen Hingely and Chris Warr who trade places behind the mic stand and the drumkit, held in check throughout by bassist Josh Sellers.
A good place to start and a time honoured journalistic lead-off question then, what inspired the band name? 'Well, it was the usual painful process you go through trying to name a band, this one seemed to stick because it best suits the way we sound in our view, and is reflective of some of the lyrical content' Chris replies. 'It was one from the mountainous list of names we were working with that had familiarity along with attitude and a dash of cynicism. You should see the list of cast offs that we ultimately chose between!' Josh adds. 'Also we swap front person from time to time changing the focal point for the listener: False Advertising? Maybe'. 'I realised recently that there's a song by
Field Music
that has a lyric about 'false advertising' in it' (from Is This the Picture) Jen adds. I was listening to that a lot around the time I suggested the name, maybe that had something to do with it'.
As alluded to by Josh with the vocals/guitar/drums split between Jen and Chris that the trio employ, what made you decide on this approach? 'We had a previous band with a drummer but it fell apart after seven months, seven songs and three gigs' Chris explains. 'After some time away Me and Jen hatched a plan; utilising our multi-instrumental, graphic and production skills to do everything ourselves'. 'Ha ha, that is true' co-vocalist Jen agrees 'It's certainly how we felt about it at the time, we both wanted to do everything. Looking back, we were both OK at guitar and singing at the start, but inexperienced at playing drums, like we'd both played enough drums in the past to write OK parts and demo songs. But we certainly underestimated how long it would take for us to get good at playing live. We did realise that we needed a bass player early on though, which is when we got Josh in'. 'The breakable rule we have is that whoever has written the crux of a particular song will generally play guitar and sing on it, although there have been exceptions like Give It Your Worst and Cold Shoulder' Josh states. 'Plus both of them are greedy with wanting to drum!' the bassist laughs.
Able to recreate their kinetic live energy on disc, False Advertising's releases have the feel of being tracked live in real time. 'I'm glad it comes across that way' Jen says. 'Partly why we haven't done is due to the meagre DIY studio environments, in garages, rehearsal rooms, living rooms etc. that we've had the pleasure of using so far'. 'Truth be told, we weren't very experienced drummers when we were doing the album, the debut album was very much an exercise in hiding that inexperience' Chris adds. 'We multi-tracked everything but without using effects, oversampling, autotune or any fakery to embellish the production. It's about as honest as your likely to get'. 'Incessant attention to detail when mixing helps' Josh states. 'We could spend hours listening to the same four bars of guitar we recorded, just tinkering with the balance to get it as 'right' as it is in or heads.
With the band entirely self-sufficient, producing and engineering their own material thus far, do you think this will continue or are you likely to involve an outsider party as producer for further releases? 'Being DIY has been a healthy restriction in many respects' Jen ruminates. 'I mean if you record an EP in a garage, it's probably going to come out sounding like it was recorded in a garage. With a lack of budget and the ability to record our own stuff albeit a bit haphazardly, it seemed foolish not to try'. 'We would love to continue that way, we brought a fair bit of experience to the table when we started but the learning curve has still been steep' Chris states. 'The real problem is the commercial nature of the modern industry, it feels like you have to play that game in order to get anywhere'. 'The freedom of control is a luxury we like having, we're not opposed at all to working with anyone else in the future' Josh adds. 'I feel we still have our best work ahead of us so if we find the right person to collaborate with then we'd be happy to embrace that'.
'With the next batch of songs we record, being commercial isn't the goal, but evolving our sound to be more expansive certainly is' Jen states. 'We're under no illusion that collaborating with the right people and probably doing it somewhere a bit more designed for recording, i.e. a real studio is going to be the best way for us to achieve this. We're in talks with a few very awesome people about that at the moment actually, it's exciting!'
With the group's debut LP appearing last September, their release schedule since then has been highly impressive, with an EP and the new single all released within nine months, given the pace are you aiming to maintain this schedule? 'We had no plans to record anything after the album came out, but that's the benefit of being a small enterprise, we can react quickly and turn things around fast' Chris explains. 'We're going to release new material when it feels right, we wouldn't want to rush the process and sacrifice the best we're capable of just for times' sake. Snowballing momentum keeps us on our toes, mind' Josh adds. 'There are a few things planned in this year still, there'll probably be another single and video before the end of the summer' Jen says. 'In terms of new material, we're spending the next couple of months focusing on writing and we'll know a bit more after that'. Further to which, can we expect a new EP/LP this year? 'Don't know, we haven't decided yet' Chris shrugs. 'I guess you'll have to see' Josh adds. 'There will almost definitely be
something
' Jen adds enigmatically.
Awash with deft lyrical hooks ('
There's a breach in my memory/ A missing link I thought could be seen
' from Sigh and '
Don't shut me out/You're alien but similar
' from Piece of My Mind), how many of the band's lyrics are written from the first person or personal experience and how many are character studies? 'I tend to write about the sorry state of society, seen through my eyes. With the occasional fictional characterisation' Chris states. 'Many of mine are character studies, or based around just things and situations I've witnessed' Jen explains. 'To be honest though, I just start off by writing what I hear in my head when I come up with the melody for the song when I write it. Things like the Wasted Away chorus ('
Wasted away/For another good day
') and '
I hope my hair don't fall out
' from Alopecia all came about like that. For me lyrics are as much about how the words feel when you're singing them and what you can do with that, than just the meaning'.
Utilising the same Do-It-Yourself approach to making videos as recording and producing, the band's promo clips are highly entertaining affairs, imaginatively using modest budgets to their advantage. The
video
for Dozer features the band in a revolving door scenario of members constantly being hired and fired. 'So far we've made them all, yes!' Jen replies. 'We have enlisted the help of a few really talented friends on camera at a few times, as well as obviously Dozer having a lot of our friends in as actors, who we are all eternally indebted to. But it's always me sat behind the computer editing them for weeks' (the singer is a graphic designer by day who has worked with the likes of Royal Blood, Franz Ferdinand and The Charlatans). 'Yeah you had a lot of 'fun' editing that one' Josh adds.
'What inspired Dozer, in a word was Tinder' Chris states. 'It's Tinder for bands, which started out as a band in joke and ended up becoming a video concept'. 'I think I mentioned it in jest one day and then it ended up becoming the best idea we had' Jen says. 'It was a logistical nightmare though and very ambitious considering we'd never made a video before'. 'It was loads of fun and we got some sweet cameos from our friends in (Manchester hard rock pairings) The Hyena Kill and Bad Grammar' Josh adds.
A final enquiry then, what's the best album you've heard so far this year? Josh: Iggy Pop,
Post Pop Depression
, Jen: Black Peaks,
Statues
, Chris: Radiohead,
A Moon Shaped Pool
.
Give It Your Worst is out now through Too Pure, available here

False Advertising play:

Sat 18th June – Preston, The Ferret
Sat 10th September – London (TBA)
Thurs 15th September – Hull, The Adelphi
Sat 8th October – Manchester, Neighbourhood Festival