Interview: Eyesore and The Jinx
The rising Liverpool alt. rock trio chat about their excellent upcoming single On an Island and future plans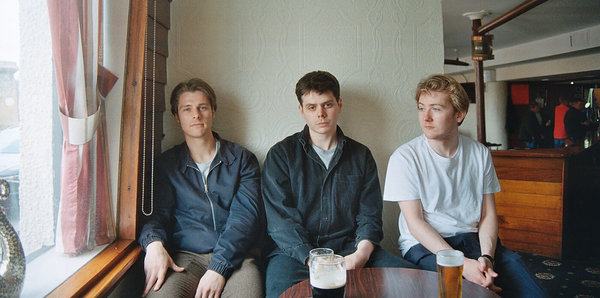 Firmly in the ascendant, Liverpool alt. rock outfit
Eyesore and The Jinx
are set to release thunderous second singe On an Island later this month. A furious amalgam of The Gun Club's supercharged rockabilly, The Fall's lyrical bile and the unhinged energy of The Birthday Party, the trio have swiftly become a sizeable live draw on Merseyside.
A state of the nation address that compresses the band's oeuvre down into a breathless two and half minutes via a succession of spiky riffs that evokes Steve Albini's buzzsaw through sheet metal guitar sound, On an Island is being issued by fast burgeoning Merseyside label Eggy Records on 31st January. The follow up to storming debut single Gated Community released last May, Eyesore and The Jinx are surely set to make greater waves this year.
To kick off then in predictable music journalist style then, what inspired the band name? "It's a tedious process, naming a band and something I wouldn't wish on anyone, let alone three simpletons such as ourselves" singer/bassist Josh states self-deprecatingly. "It was a while back now and as with any traumatic experience, I've buried the worst bits of that time in my life in some deep crevice of my brain along with the time I sharted in the Disney shop in Chester, and that second season of
True Detective
".
"I think (and I stress think), that we were looking for something that was deliberately vague, that also managed to give some indication of what the listener was letting themselves in for. For me, it's a contradiction which I think nicely sums up what we were trying to do with the music. 'Eyesore' referring to some of the grimmest aspects of popular culture that we tend to use as subject matter and the 'Jinx' being the humour that we use to frame that subject matter. As for the words themselves,
Eyesore
came from the Women song which is a favourite of mine and guitarist Liam and the 'Jinx' was just our own idiocy. Initially I liked it because it provoked such a dramatic mixture of responses ranging from bewilderment to disgust to all out lols. I think that's when we knew we'd touched on something worth having".
With the new single drawing inspiration from the seemingly never-ending saga of Brexit, is it fair to say that covering politics is important to the group? "With the political climate being the shit-show that it is, I think covering politics is unavoidable at the minute" Josh states. "24 hour news coverage and Brexit have meant that every little fart that a member of the cabinet ends up doing winds its way on to the national news. As a consequence of that though, a growing number of people seem to be a lot more politically aware than ever and because of this are starting to see British politics for the massive boys' club that it is. But, in short; we didn't intend to be political. The current crop of Tory mings are easy targets really, aren't they?"
The video for for the trio's first single Gated Community saw the band as pixelated platform game characters trapped in the titular neighbourhood. Heroically attempting to outrun the disembodied floating head of the current White House incumbent and his voluminous hair, do battle with Putin as a troika of Russian Dolls they finally have to ward off a demonically laughing Theresa May. An excellent debut clip for any group, with there be visuals for the new single? "Yeah. We've been working with our good pal Mat Greaves who does all of our artwork on an animation to accompany the track" the singer replies. "I'm not going to give too much away at this stage but if we don't win Best Video at this year's Brit Awards I'll be fucking fuming".
Across Eyesore and The Jinx's recording sessions, the trio have worked with a score of highly impressive producers including Fat White Family's Nathan Saoudi, Daniel Fox from Girl Band and John Hartley guitarist for Liverpool psych-garage surgeons Clinic. From working with different producers behind the recording console, what do each of them bring to the table?
"It's been great to be in the same room as some of the people whose records I've been out and bought in the past" Josh states. "The hardest part of the process was trying not to fanboy them all the way through the recording process. As for the actual recording, they all have very different ways of working and it's good to get a bit of an insight into their recording techniques. Despite outward appearances they're all really organised and took quite a conservative approach to recording which we learnt a lot from"
"When we initially recorded On an Island in Champzone (Leeds studios operated by Fat White Family) with Nathan, we were trying to capture the track as close to live as possible. Nathan was great in that he was able to capture the energy of the live performance. We then did the track with Hartley, who was more focused on bringing out the melody and the rhythm of the track, which meant changing the performance of the song to suit what he was looking for. It wasn't an easy song to record, but we're all really happy with how it's turned out. Just before Christmas we brought Daniel from Girl Band over to Fresh Goods studio in Birkenhead for the weekend to record another single for later in the year. I think the previous experiences with Hartley fed into the process and led to a better outcome. We went out to watch the Merseyside Derby with him afterwards as well. He's a Kopite (Liverpool supporter) though unfortunately, can't have it all eh?"
Kicking off 2019 with a new single, are there likely to be more releases over the next 12 months? "At the minute, we're working on an EP for later in the year. We've been getting heavily into disco these last few months" Josh explains. "I think the end goal is to get everyone dancing round their handbags at the gigs. We can dream anyway".
With Gated Community partially drawing influence from books about the West's obsession with wanting to live in near-isolation, ("
The world outside's not for me / I'd rather live in a gated community
"), has the upcoming single or any of your other recent tracks been inspired by literature? "I was given a few Douglas Coupland books by a fella I work with during the time we were writing On an Island" Josh replies. "There were quite a few of them I didn't think much of to be honest,
Generation X
being one of them, but I think it's use of slogans ended up being a bit of an influence and lent itself to the subject matter quite well. I'm currently reading
In Cold Blood
by Truman Capote with a view to it tying into some songs that we're currently working on, murder heavy subject matter, keeping it light. Enjoying it, would recommend".
"Our drummer Eoghan is our resident cinephile so he may have been able to give a more in-depth answer here than I can. I tend to go for anything that causes a bit of a fuss, recently I went to see
The House that Jack Built
as I thought it would tie in nicely with what I was reading, and I usually quite like Lars Von Trier's stuff, this was a bit shite though, not gonna lie. As for new musical influences, I've been listening to a lot of Joesf K, Meatpuppets and Country Teasers who are a band that I hadn't listened to much until people started comparing us to them".
With the three piece set to launch the single at newly-minted Liverpool underground venue Outpost on release day, are gigs further afield due soon? "We're in the process of confirming national live dates throughout the next few months at the minute" Josh says. "So if anyone wants to come they can have a mooch at our socials to see me using images of dead/disgraced celebrities to flog gig tickets for a show near them".
A standout moment that concludes the group's live sets, Sleepless (featured here from a show at the aforementioned Fresh Goods Studio) sees the trio move from a chugging groove akin to post-punks Killing Joke into an extended instrumental coda. Is the track an indication of where 'the Jinx may be headed next? "Yeah those are Liam's knee slide noises" the singer says. "I'd say it's likely that we're going to write more music that's akin to that outro purely for that reason. Never underestimate that man's desire for a knee slide".
Wrapping things up then, what have the trio been listening to recently? "I think 2018 was a particularly good year for new music" Josh replies. "Every year I seem to listen to less new stuff, I imagine that's how you become one of those "No New Good Music" blurts, but this year has thrown a lot of really good new stuff at me. I've really enjoyed Warmduscher's debut, and the Insecure Men album. I think the album of 2018 went to Parquet Courts though. Know their way around a tune, those lads".
On an Island is released through Eggy Records on Thurs 31st Jan, single launch same night at Outpost (formerly Maguires Pizza Bar) Liverpool Tickets

Thursday 24 Jan, Alexander's, Chester, Free Entry
Fri 1 Feb, Picture House Social, Sheffield (supporting Phobophobes) Tickets