Interview: Danny and the Champions of the World
As Danny Wilson decides to get plugged in again and reveal his rocking roots, he tells David Brown why a change of direction was required for 'The Champs'…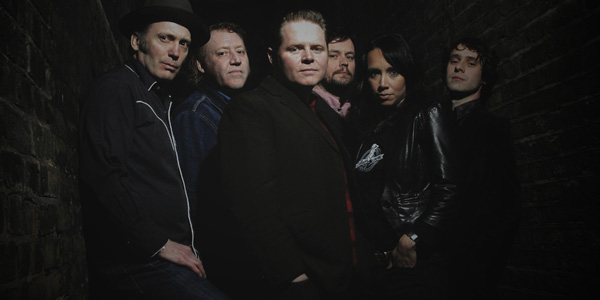 The Stone Pony, 913 Ocean Avenue, Asbury Park, New Jersey, US of A, is without doubt one of the most famous music clubs in the world. The legendary Southside Johnny & The Asbury Jukes were the house band there at one time and the likes of Bruce Springsteen, Steve Van Zandt and Jon Bon Jovi could often be found jamming on stage with groups there.
You might find a singer songwriter playing there, but a folk club it isn't. This is the place to come for some hard-driving rock & roll or solid soul music, perhaps with a ghostly blast of the late Clarence Clemons' sax playing disturbing those spirits in the night.
So, if someone says they've recorded a "Saturday night at The Stone Pony" style album, you know it will not be a beard-stroking, trainers-gazing, new folky recording but an out-and-out belter. Cue Danny George Wilson and the new line-up that is
Danny & The Champions of the World
(aka Danny & The Champs), with a very different sound that was represented by the previous couple of albums from the band bearing that name.
The idea had been for a loose conglomeration of like-minded, free-wheeling acoustic musicians to perform live and in the studio with Danny, providing a folk-tinged frame for his ever inventive songs. Certainly the self-titled first album from 2008 and last year's
Streets Of Our Time
were well received and you could be excused for thinking that surely, with the likes of The Fleet Foxes, Mumford & Sons and Noah & The Whale managing to break the urban R&B stronghold in the charts, now would be a good time to wave your new folk flag?
Well, Danny Wilson has never been one to court current music fashion. Take
Grand Drive
, his band with brother Julian, which brought a touch of Dann Penn and Spooner Oldham southern soul with a hint of gospel into the emerging Americana scene; in their case emerging from Croydon! There wasn't much of that sort of music bothering the charts then either.
"We were completely out of step back then, just as I am now," Danny confirms. "Even if I found I was in step with what was happening elsewhere, I'd soon get bored with it. To be honest, I've got a bit bored with this acoustic scene and decided it was time to do something different.
"I'd been listening to a lot of Tom Petty and Springsteen and decided it was time to plug my 'Strat' into a valve amp and play some rock & roll. It was the first time I'd really played electric guitar for a while, but it has to be said I am really enjoying it!"
This return to playing electric guitar and a more rock-based sound has resulted in the 11 news songs to be found on
Hearts & Arrows
, released by Loose Records on July 18.
"I've got a good feeling about this record, it very much reflects exactly where I am now," said Danny, as we chatted in a Soho pub recently. "It is a lot more rock & roll in its outlook, though there are still folk and country influences in there, so it's not a total departure from what's gone before. In spirit, it's still very much a Champions album. I am working with musicians I've known for a long time and there's this lovely euphoric feeling you get when working with a celebration of friends."
The new line-up of Danny (vocals and guitar), Rosalie Deighton (vocals), Chris Clarke (bass), Paul Lush (guitar), Geoff Widdowson (organ/saxophone) and Steve Brookes (drums) first appeared on a special 10" vinyl EP featuring four Springsteen covers, called
It's Boss Time
, released by Badlands as part of Record Store Day on April 16, 2011. The track, 'Tougher Than the Rest', had been engineered and mixed by Chris Clarke at Reservoir Studios, London. Danny went down to perform at the Cheltenham record store that day along with Willie Nile, one of the coolest dudes on this earth, who contributed a version of 'I'm On Fire' to the EP.
For the new album Danny has combined two elements of rock dear to his heart – the British pub rock style rock of Dr Feelgood, Brinsley Schwarz, Dave Edmunds and Nick Lowe (which had, until punk indelibly stamped on it, thrived in the UK in the mid-1970s), and that American sound typified by the likes of Tom Petty and Springsteen.
To achieve this inspired union, a UK/US sound team has really brought out the best of both worlds. Producer Tony Poole is a 12-string guitar virtuso and a member of 1970s rockers Starry Eyed and Laughing, who took their name from Dylan's 'Chimes Of Freedom'. To say they had a Byrds-vibe would be a big understatement, though chief-Byrd Roger McGuinn is an acknowledged fan of Tony's guitar playing, which has to be the biggest compliment! That Tom Petty could also mirror that McGuinn and The Byrds jingle-jangle guitar magic with songs like 'American Girl' is no coincidence.
The second element of the overall sound achieved on
Hearts & Arrows
is provided by Ted Hutt's role in mixing the album. Ted Hutt has been instrumental in the Boss-approved sound producing albums for New Jersey rockers The Gaslight Anthem, together with excellent work such as Chuck Ragan's sublime
Feast Or Famine
album (engineered by Ryan Mall, who shares mixing credits with Ted on
Hearts & Arrows
). Ted, formerly a member of Flogging Molly, is also working with Brian Fallon of Gaslight Anthem on his new side project.
"When I was talking with Ted in Los Angeles I thought there was something familiar about his voice," said Danny. "So I asked him where he came from and he said 'Croydon' – what a coincidence!"
About now, our Adnams' glasses were almost drained and it was getting closer to gig time as Danny premiered the new band at Borderline, not exactly The Stone Pony, but perhaps as close as London has to offer. They've since played at Glastonbury and take the album on the road with dates around the UK this autumn.
"I've never actually been inside The Stone Pony," he reveals. "But I have had my photo taken standing outside!"
"Did I tell you about the time my brother and I approached Southside Johnny with a cassette of our songs in the hopes they might record some of them?"
Well, yes, you did, Danny, but it is a story that bears hearing – again!
The Gig
"Walking down the stairs at the Borderline..." so begins the song 'Every Beat Of My Heart' on the new album, so this is an apt venue for the new lineup of
Danny & The Champions Of The World
to make their presence felt. It is pretty full and very warm in there and The Champs are given a good reception as they launch into their hour-long set and, considering they are playing mostly new material, it certainly bodes well for their change of direction.
A couple nearby debate that they sound very different to when they last saw them but the straight rock sound is played with a heartfelt precision that reveals musicians reveling in each other's company and you could be excused from thinking that they'd been playing these songs together for years.
Geoff stands up from behind his keyboards and provides more sax breaks than are evident on the album and for a while it's like we're strolling along that New Jersey Boardwalk. Paul provides some excellent guitar work with the rhythm section working well behind them as Rosalie's vocals add the final touch to the band's pure rock sound. The man in the middle is smiling and inviting the audience to dance. Danny, once the crowd are more familiar with this material then you won't be able to stop them!
The Album
From the opening driving backbeat urgency of 'Ghosts In the Wire' this is obviously going to be a straight-ahead rocking party and not intended for an evening of peaceful reflection. Danny does not hide his influences and aspirations, indeed he seems to relish sharing his newfound musical confidence in taking on the framework of those UK and US rock sounds for his own inventive lyrics. He tells us stories of the 'Colonel And The King' and introduces us to many other of his own characters, relates tales of heartache and loss, plus the unconfined pleasures enjoyed by the 'Brothers In the Night'. It is not all head-on rockers as tender moments are found in abundance in the soulful 'Too Tough To Cry' and the closing 'Walk With Me'. The winning ways of the UK/US sound is found to perfection in the pivotal song 'Every Beat Of My Heart', where the wonderfully layered rhythms and jangling guitars nails the whole concept.
Danny Wilson may not have been inside The Stone Pony yet, but at this rate he might just get a booking. Meanwhile, Danny & The Champions of the World's 'Hearts & Arrows' is taking over the stereo – tonight!
Check out the video for 'You Don't Know (My Heart Is In The Right Place)'
here
.
Danny and the Champions of the World Links