Interview: Dan Croll
Liverpool based musician Dan Croll chats to Richard Lewis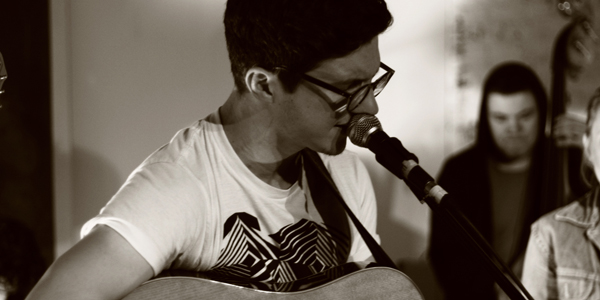 Steadily continuing his ascent into the public consciousness via support from Steve Lamacq and Q, Liverpool luminary
Dan Croll
has been a fixture on the city's music scene for the past three years. Following a rapturously received set at Liverpool Sound City last year and the growing buzz around his superlative home studio recorded tunes has lead to being described by many as the city's 'Most Likely To' this year.
Winner of the Musician's Benevolent Fund Songwriting Award last year, the songwriter ploughed the £5,000 prize money into recording. Q quickly picked up on his latent talents, including 'Home' in their essential downloads list for 2012. Coming out of a 'folky-acoustic world' initially, Dan's music passed through major changes at University, where he soaked up the sounds of Mars Volta, Lightening Bolt and At the Drive-In.
Listing Sufjan Stevens, Beruit, and Fleet Foxes as present influences, Dan cites the more obscure end of the 1960s psychedelic canon as current fixtures on his iPod. Old psychedelic records by Fifth Dimension and Rotary Connection win his approval as Dan says,
"Music seems so predictable nowadays and listening to stuff like that you can't guess the next move which is what I love about it so much."
'Marion', caught the attention of label Communion, who are including the song on their 2012 sampler CD, due for release in April. A key song of Dan's, the spiralling Parisian waltz was inspired by a weekend at 2009's Benicassim Festival. The singer met the eponymous heroine in the midst of a hurricane during which "the olive fields next to us were on fire", events that made it into the song.
"'Marion' was the first song where I was really happy with the lyrics"
Dan explains.
"There was a lot of meaning behind it and then 'Home' came along shortly after that. Those two for me lyrically are my strongest ones."
Elsewhere, 'Closer' points up another major influence, Ladysmith Black Mambazo, the South African male voice choir brought to worldwide attention by their indelible contribution to Paul Simon's groundbreaking
Graceland
album. Like Simon, who continues to tour with a large backing ensemble largely inspired by his 1987 Graceland tour, Dan's stagework also features an extended backing troupe, numbering eight in all.
Soon to be released single 'It's Always Like This' in collaboration with world music quartet United Vibrations was written after seeing the band play. Boasting the same pulsating rhythm and anthemic quality found in Afrobeat legend Seun Kuti's work, the track highlights Dan's ability to dabble in widely varying genres.
"I've always been into a collaborative mentality"
Dan explains of the hook-up,
"I think it's going to be a big part of my career doing things like this, with every single I'd like to do a collaboration with a band that inspired me in a way"
. Indeed, Dan's moonlighting with solo artist Mikael Paskalev (currently huge in his home country of Norway) and excellent side project, rock band Eye Emma Jedi means his diary is full for the remainder of 2012.
Witnessing a Grizzly Bear/St. Vincent show where the two acts collaborated on an entire live set was a major eye-opener for Dan and his approach to gigging.
"People need to make it more special, make it this rare opportunity that when you come to their town or city they're in store for a great show"
he says.
"Going into different cities and collaborating live with different artists based in that city is a big aim of mine, I really want to create an amazing live show for people. I'd rather not gig as much keep the gigs quite rare and really go to town on them and make them special. I think there's more to gigging that just playing on your own."
With fellow LIPA graduate Joe Wills of Kankouran (see last months guide) on co-production and mixing duties and the aforementioned tracks all present, Croll's debut album is shaping up to be a formidable record. The disc is being helmed in the pleasantly scruffy surroundings of former school gym the Schoolhouse studio where fellow Liverpool wunderkinds Stealing Sheep have also recorded.
Dan's snowballing success means that a relocation to London is imminent, following completion of the album sessions. Whilst being pursued by various interested parties from independent record companies, Dan is presently
"Trying not to miss the festival boat"
, hoping to log further solo gigs outside the UK. A final question then, with his own material to write and record and his frequent collaborations at home and abroad, how does he find time to sleep amongst all this activity?
"I'm bored when I'm not busy"
he grins,
"I'm happy working"
.