Interview: Cheatahs
The London based alt. rock quartet chat about their acclaimed Mythologies LP and their plans for 2016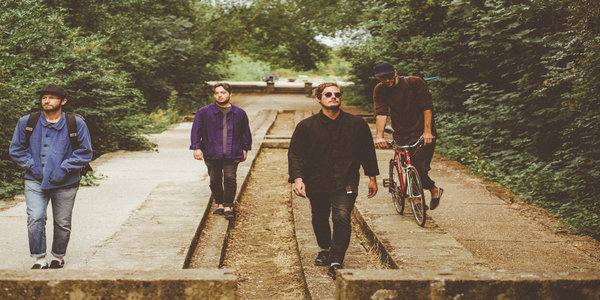 One of the best albums of 2015
Mythologies
(
review
), the second LP by estimable nu-psych quartet
Cheatahs
pushed the London based group into sublime new pastures, exploring avant garde and pop with equal fervour.
Heralded by excellent lead single
Seven Sisters
, equally inspired by the North London suburb and the chalk cliffs in Sussex, the LP juxtaposes cut-up guitar textures, swirling keyboard motifs and discernible pop melodies, while a smorgasbord of lyrical references ensures the band's lyric sheets are vastly superior to many groups out there at present.
Sat in the dressing room of subterranean gig space the Soup Kitchen in Manchester the band are in pre-show limbering up mode. 'The name actually came halfway into the record' singer/guitarist Nathan Hewitt explains of the album title. 'The music was sounding kind of otherworldly and that formed as we were making decisions on the words'.
With recent influences including Aphex Twin, Oneohtrix Point Never, Deerhunter and Kendrick Lamar's
To Pimp A Butterfly
selected as the band's favourite album of the year, literature has been a fertile source of inspiration. With lyric writing divided between Nathan and guitarist/keyboardist James Wignall, the songs are rich in detail. The opening
Let us compare Mythologies
line from the sublime indie pop rush of Hey Sen references a Canadian writer better known for his music than his previous occupation as a novelist and poet. 'It's the title of a Leonard Cohen book' James explains. 'I love his poetry, I can't get on with his music. I'm a big Beckett fan, that song was a short story that I was writing'.
The chorus '
Hey Sen/Be my friend
' referring to an attempt at rebooting a faded friendship is the most plaintive lyric on the LP. 'When I wrote that I wanted it to be ambiguous as it stands' James says. 'It's about trying to reconnect with someone after a period of being away and trying to see if the history between you can get in the way, whether you can bridge that gap. The Mythology aspect of that is conflating memories of ex-girlfriends really' .
While Hey Sen concerns 'When you're there scanning the room, looking through the bookshelf', one of the album's highlights
紫(Murasaki)
, previously issued on the EP of the same name was inspired by 11th century author Murasaki Shikibu, in particular her epic novel
The Tale of Genji
, a cornerstone of Japanese literature. 'That was quite nice cos Dean told us the story of how his parents met and so I wrote the English part about that and Dean wrote the Japanese words' James notes. 'It's quite a simple story in a way so it romanticises it' bassist/vocalist Dean Reid nods. 'The original Japanese lyrics I wrote I wasn't thinking about my parents actually, I was just thinking about a guy who had a gone on a long journey and left his sweetheart back home'. 'There's the real love story and the mythologised love story and then we put them together' James adds.
'It's an incredibly long book, it's like a set of encyclopaedias, I didn't sit down and read the whole thing, I just scanned bits and pieces' Dean says of the work. 'It's like a soap opera between aristocrats basically, when they talk to each other they quote poetry or sayings instead of speaking straightforward. Most of the references are even difficult to grasp for a native Japanese. In Japan it's one of the great myths there these days, all that harks back to Mytholgies. We kind of realised that whenever you're talking about our own past or a country's past, the way you portray things can become mythologised'. 'That's why all these things individually kind of coalesced' Nathan adds.
Away from the wanderlust displayed in many of the lyrics, Channel Waves finds the narrator crashed out in front of 1979 drama
Blue Remembered Hills
by genius TV playwright Dennis Potter (
The Singing Detective
(1986) is my favourite' James nods approvingly of the late writer). 'I hadn't seen it for so long, that was memory as well really' the guitarist explains. 'I quite like the idea of watching something and not then really remembering the details about it'.
With a stockpile in the region of twenty tracks issued this year including
Mythologies
and a troika of EPs, the quartet's output since the appearance of their 2012 debut EP
Coared
has been exemplary. When asked why the band are so prolific Nathan immediately points towards Dean. 'He can record us in a room we don't have to pay for'. 'A lot of bands might write forty songs and choose which ten they want to record but because we weren't paying for it, we can record any old idea we have' Dean explains. 'Also because our label (venerated indie Wichita) wanted EPs. A lot of bands used to do that back in the day. It wasn't this perception that they were doubling or tripling up on releases, EPs are one thing but the album is the actual release'.
'Because it's basically a home studio, you'll come up with an idea and start demoing it and then at that point the life of a song has begun' Dean explains. 'We probably started working on four or five ideas maybe, six months before we said 'OK let's make a record'. Some of those songs are literally the demos with the drums re-recorded. A few of the songs were from demos. The main keyboard line to Reverie Bravo (the album's downbeat gothic finale) that was something Marc created long, long ago. Unfortunately there wasn't a lot of live tracking on this record, and up to now that's how we work just because we like to change our arrangements a
lot
' the bassist explains. 'We really like tearing things apart and putting them back together'.
'We credit the production to us of us, plus me and I think that's accurate because I am the one doing the pro-tools, Marc helps with the miking, the pre-amps will be by James. If you consider production a conceptual thing, that's all of us'. 'I engineer for some pop stuff, that was my old job, I still do bits of that (his credits include Lana Del Rey). I was doing a bit of freelancing for a while, but because I spend a lot of time recording Cheatahs that's definitely taken a backseat'.
'Part of me really wants to take that even further, really deconstructing and manipulating things in the computer, part of me wants to do something really straightforward and honest. I dunno what you guys think' Dean says turning to the others. 'We probably should have talked about it before telling a journalist' James deadpans to an outburst of laughter. 'One day we'll come up with a demo that's really melodic and catchy, the next day really abrasive and angular' Dean adds. 'It's not like we woke up in the morning with a plan to do that. It's all very spontaneous, that much I can definitely say'. 'The melodies are number one and usually try and fit the words round the melodies' Nathan says of the writing process. 'If you wanna dig deep there is substance there. You don't have to either, a song is just a song'
Another location involved in the creation of the album had its own unique energy meanwhile. 'Marc's old flat was a building that was used by Mi5, the building has a crazy history, it was a police station, then it was an anti-terrorism thing for a while, it's been bombed by the IRA. In the new Bond film (
Spectre
), your office building was in there wasn't it?' Dean enquires. 'Yeah, there was a shot they needed for it around midnight, so of course they kept us up
all
night with helicopters' drummer Marc Raue groans. 'The album was also partly done in my flat which is equally dingy, it definitely feels like a city record to me' Dean states. It doesn't feel like it we went off to a cabin in the woods, Bron-Yr-Aur style' (rural retreat used to record
Led Zeppelin III
), so maybe subconsciously that's what it's about'.
'It's about modern life really, this strange period of flux we seem to be going through' James says summarising the LP. 'We're getting into post-post-modernism, so what's the next phase? The song In Flux was in part a little bit about imagining what if you replaced capitalism, it's about imagining an alternative reality to be honest'. 'Yeah, but buy our record!' Nathan adds laughing.
Moving their sound into new territories on the LP, the motorik rush of Colorado ('A demo name that just stuck' according to Nathan) comprising outbursts of static fuzz and guitar lacerations leads into the album's most avant garde moment, the heavily reverbed vocals and strident pulse of Su-Pra which slides between speakers to delirous effect. 'We've always really loved noise, so I'm surprised we haven't done abstract like that before' Dean says of the experimental edge to the tracks. 'There's some stuff on the
Mursaki
EP as well that's also pretty abstract'.
With 'More new stuff than old stuff' currently in the set, impressively the band are entirely self-sufficient live save for some multi-tasking 'There's certain songs where I'm jumping between Farfisa (electric organ favoured by Stereolab) and guitar' James notes. 'We do use samplers now, we've been pretty minimal with it, we've only been using them for keyboard parts'. 'It's nice reinventing the songs live, it makes it much more interesting to us' Marc adds.
Beyond their January fixture at XOYO in London and a clutch of European dates (see below) the band are 'kind of working out what we're doing next year' Dean says. Further proof of the band's boundless creativity meanwhile, sound collage
Witch's Mirror
is available as a free download from the band's
Soundcloud
page. 'It's ideas or home recordings that we had knocking around the Dean and James put them together, like a mixtape. There's no lyrics or singing, its mostly textures' Nathan explains.
'I think the smart thing for band's to do is always your next record written by the time the current one comes out, but we spent so much time recording last year that I think we're actually looking forward to taking some time away from it' Dean explains. 'We've tried our best to keep it around, we're by no means a headline band or anything, we've put a lot of love into this project over the years and we're hoping it shows'.
Before any of that however as time progresses towards 10pm tonight's show beckons. With more material doubtless on the release slate for 2016 and the set of live dates at the beginning of the year, the present band seem to be in constant in motion. 'Yeah, that's kinda what we wanna do right now' Dean smiles.
Cheatahs play XOYO London on Tues Jan 19th
Mythologies is available now through Wichita

European dates:

Thurs 21st Jan – Netherlands, Utrecht, ACU
Fri 22nd Jan – Netherlands, Eindhoven, Stroomhuis
Sat 23rd Jan – Netherlands, Rotterdam, V11
Sun 24th Jan – Netherlands, Amsterdam, Sugar Factory
Mon 26th Jan – Denmark, Copenhagen, KB18
Tues 27th Jan – Germany, Berlin, Kantine am Berghain