Interview: Cheatahs
Cheatahs lead singer Nathan Hewitt chats about the band's forthcoming Sunne EP with Richard Lewis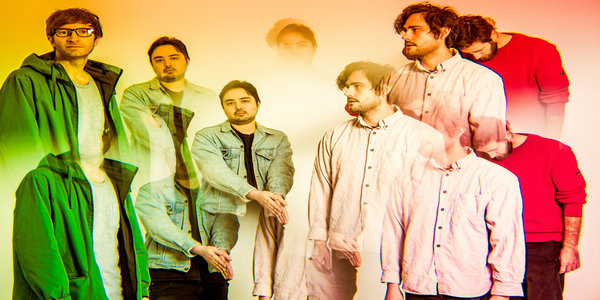 With a membership suggesting the alt. rock equivalent of NATO, their line-up drawn from Canada, the US, Germany and England,
Cheatahs
issued one of the strongest debuts by a UK based band last year, the eponymous set delivering iridescent psychedelic textures, garage rock rushes and songwriting smarts in equal measure.
Taking the template established on their first two EPs
Sans
and
Coared
up a level, the quartet return to the format they first broke through with as
Sunne
, the band's first post-album release hits the shelves next week. Before that has even happened however, the band are already recording the follow up. 'We're in London in our home studio right now writing and recording' lead singer/guitarist Nathan Hewitt explains on the phone during a break. 'We're gonna release another EP before the next record, we're just kind of finishing that up now. The idea was to have another album out but we started writing and a whole bunch of stuff started coming, another EP after
Sunne
will be another stepping stone to the album.
'I guess it's like writing a short story, sometimes it just feels that it works on that format' the singer says of the band's fondness for issuing extended plays. 'The process has been good, you don't have as much pressure to hand in a whole LP, you get a bit more freedom to have fun and experiment'.
One reason for the band's rapidity in releasing new material is the bewildering blink-and-you've-missed-it turnover of bands and releases at present. 'Now everything is digested so quickly especially through social media and everyone's bored as soon as the next day' Nathan half-jokes. 'We spent a lot of time last year touring and didn't have that much time to actually just be able to write, everybody's bringing in songs and we'll work on them together. We wanted to put something out so that we weren't waiting forever to get the next record out. I don't think I've ever said this about our band before but we're kind of prolific as far as releases go' the singer states.
Opening with the too much candyfloss then straight onto the waltzers swirl of the title track, the EP provides further affirmation that the band can write dizzyingly melodic tracks swathed in sandblasting guitar grittiness. Inspired by Ernest Hemingway's 1926 novel
The Sun Also Rises
, 'Sunne' ranks as one of the quartet's poppiest moments to date. 'I don't know where that came from, we started playing round with some different tunings' Nathan recalls. 'It wasn't like 'we need a really poppy song' but it came out that way. Once you have that that's when the fun starts you can stick it into a context that doesn't fit, but then it
does
fit and play around with that'.
Racing past on a flurry of crosscutting guitar lines and straight-ahead motorik drums, 'Campus' opens with degraded guitar noise similar to that heard on My Bloody Valentine's earliest EPs, where the poor sound quality of the 7" discs added to the effect. Emulating this via updated means, the band chanced across the ideal worn-down guitar feel. 'We used GarageBand and it sounded terrible and it was just
perfect
' Nathan explains. 'Some of it is manipulated after the fact, so we'd record it onto a cassette tape and then feed it back into the computer to give it warmth and an analogue feel. We tried our hardest on that not to make it sound like a guitar at all, almost as if you heard a rave next-door and you could just here the ambient wash of noise and recorded that.
'Campus' was a funny one 'cos I'd done an improv 'this is what the verse melody might sound like' and then we went back and listened to whatever gibberish I was saying and then made words to fit those things and made sure it made sense. We have the melodies there and whatever works phonetically we figure it out' the singer explains of the band's lyrics.
The first cut issued from the collection, 'Controller' is a gem of plaintive chorus lyric
'I see this life in stages to score/I just don't know what's real anymore'
and spiralling guitar line, its persuasive charge captured through recording 'drums and guitar in the same take' with the almost jazz-like manipulation of the drums achieved by 'flipping the tape back'. Surfacing in mid December, the track comes accompanied by a wonderfully incongruous
video
of two girls discussing the unbearable lightness of being whilst playing in a games arcade. 'Frederico (Urdaneta) the director, a friend of ours came up with the idea of these kids going to play video games and talk about the meaning of life, as soon as he said it we agreed to it' Nathan explains. 'James (Wignall, lead guitar) and Frederico wrote the script for that, a lot of the dialogue are quotes that they pulled from philosophers, so if any of them are familiar they are direct quotes'.
'No Drones' (about 'somebody who does something without thinking, like a robot') concludes the set with the most abrasive track present, comprising a pile-driving riff that batters along like something akin to speed metal before the double tracked vocal kicks in. A development that opened up new possibilities for the group the cut, along much of with new material came about through experimenting with guitar tunings. 'We found a tuning, a major seventh chord that worked really nicely and sounds un-guitar-band-ish' Nathan recalls. 'You start playing the guitar like you would a piano almost, using this one shape'.
Entirely self-sufficient in the studio,
Sunne
continues the band's practice of recording, producing and mixing all their material. 'Dean (Reid, bassist) works the computer and the mics and all the techie stuff like engineering' Nathan outlines. 'Mark (Raue, drums) does a little bit of that as well, he's built some of his own pre-amps that we've been using, they do that together. Mixing we'll all be in the room together, that's done as a group'.
Cheatahs technical proficiency has proved invaluable in an age when alternative bands have extremely meagre funds to record with. 'Nowadays it seems like that's one of the only ways to be able to record and produce records on the budgets that you're getting now' Nathan states. 'Most people can record at home a little bit, nowadays you kind of
have
to be able to do that. You can't just go into a studio and say I'm gonna be here for two months, there's no money for that. You have to be able to do it in your room where you don't pay any overheads as much as you can.
'There's no way we'd be able to pay for the amount of recording time we've actually done if it was in a proper studio with a proper producer and an engineer and all that stuff. I don't know about that world, I'm sure it still exists!' the singer laughs. 'Cos we've done this ourselves we're quite wary of any outside influence coming into it. We're trying to be more adventurous and creative with production, that's the next thing we're trying to focus on, obviously we'll still write melodic songs with a lot of energy, but I think that will start with the EP that comes out after this'.
Recent influences on the quartet alongside London producer Moongangs who supported the band on tour include rediscovering the groundbreaking sequence of mid nineties LPs by Stereolab. In addition to 'Thirteenth Floor Elevators, early psych stuff and British folk' spurred on by last year's triumphant
Syro
, the first two volumes of Aphex Twin's early landmarks
Selected Ambient Works
have also been amongst the band's primary listening of late.
With the new EP due in 'possibly May' with the LP 'maybe October', the main priority for the band away from the studio is a straightforward one. 'We're gonna have to learn how to play again after we've done this record!' Nathan laughs of what's next for the quartet. 'Once you start putting lots of stuff on in the studio they you think 'Er, how are we gonna do this? Maybe we need another member?' But it's usually just a case of 'buy another pedal' and that kinda works!'
Sunne is released on February 23rd through Wichita
Check out the EP trailer
here