Interview: Bird
Liverpool band Bird chat about their forthcoming debut album My Fear and Me to Richard Lewis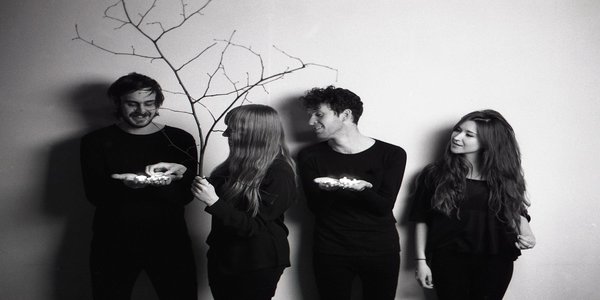 The culmination of two years of spectacular gigs to a steadily burgeoning live audience, two superlative EPs and highly positive notices in the blogosphere, Liverpool alt. rock quartet
Bird
are preparing to release their debut album. The sound minted on EPs
Shadows
(2012) and
Ophelia
(2013) and most recently heard in singles 'The Rain Song' and 'A War' comes to full bloom on the band's stunning first album
My Fear and Me
, released in a fortnight's time.
Led by singer Adele Emmas, alongside guitarist/backing vocalist Sian Williams, bassist/synth player Christian Sandford and drummer Alexis Samata, the band became a quartet last July and the configuration quickly coalesced to become the band's definitive line-up.
Piloted by Adele's remarkable siren-esque vocals the band have lit upon their own distinctive sound first time out on the LP, channelling the ethereal end the 1980s indie canon, Cocteau Twins, This Mortal Coil, along with the spikiness of Siouxsie and the Banshees and the compelling downbeat lyricism of Joy Division and The Cure.
In addition to their snowballing profile in the UK following their invitation to play the BBC 6Music Festival in Manchester alongside Damon Albarn and Haim in February, the group supported psych-folk legend Rodriguez on five dates in Poland and Belgium last month. Taking in the opulent surroundings of the 3,000 seat Sala Kongresowa concert hall, Warsaw and the Ancienne Belgique, Brussels the shows saw the band decisively move up a level.
Sat in a cafe on Bold St, Liverpool Adele and Christian recall the experience. 'I don't think we'll ever play a venue like that again' Christian marvels of the gigs in Poland. 'In Warsaw everyone was seated by 7 o'clock and we were going on at 8, so it was like we were playing to the Albert Hall, full for three nights.'
'We've played to three thousand people now, there's not many crowds that we can't tackle' Adele says of the increased onstage confidence of the band. 'I remember taking a moment to look up and thinking 'this is insane'. We might never have this again, so take it all in'.
While Adele's modesty is admirable
My Fear and Me
is music that demands to be heard in the biggest spaces possible, a fact proven by the band's recent support slot to fellow Liverpool-dwellers All We Are in the city's majestic Anglican Cathedral.
While the LPs eleven tracks hang together brilliantly, the route to the eventual album tracklisting wasn't a simple one. 'We weren't going to use 'Oh My Love' on the album, we actually had almost a completely different album' Adele explains. 'We had it half recorded' Christian nods. 'Then about a month before it was finished we pretty much changed the whole vibe of the album, it was getting a bit too light and airy fairy.'
'With 'Oh My Love' we were playing it in the practice room and Christian hadn't heard it before and halfway through playing it he said 'Why aren't we doing this song? This track's brilliant'' Adele explains. 'I think that made us take a detour into what the album has become. We became afraid not to go to tracks with that kind of darkness really.'
'We had a lot of songs written, a couple of tracks had started to be recorded before I joined the band' Christian explains. 'We nearly finished it then we thought these songs aren't going to work together' 'We had to think: Do we want to go down the route which might be more accessible? Or: Do we want to go down the route we feel is true to ourselves? We went down the more leftfield road which is always what we try to do' Adele states. 'We're control freaks really. Half way through the album we completely changed our minds and fortunately Daz (album producer) just went (shrugs) 'OK'' the singer smiles.
The breakthrough proved vital as the lion's share of the album was written this way, Adele explains. 'A lot of the writing as a band was done in the practice room, the only track that was demoed was (album opener) 'Ghost' really. Most of the album was arranged live in the room'.
'Oh My Love' proved to be a key track in more ways than one as the memorable album title is drawn from a lyric in the song. 'We were going through album names and I just said 'My Fear and Me' and we all went 'Yeah' (nodding emphatically) and it just clicked' Adele says. 'It connects what a lot of the songs are about, going through personal struggles, trying to make sense of who you are as a person. It fits in with the album as well, it's about a loss of identity and trying to find it again and who you are again. Everyone has those fears and trying to tackle them and turning them into something positive.'
Propelled by the same febrile energy and thunderous drums as The Cure's early works, live favourite 'Sea of Trees' stands as a definite album highlight. 'That came about in our first practice as a quartet really' Adele explains. 'I had the melody and I was originally thinking it was going to be quite slow, I started playing the drums, Sian started playing that huge guitar sound that she has which is quite menacing, Christian and Lex joined in and it just fell together really. It was inspired by a
Vice
documentary, there's a forest in Japan called Sea of Trees where people go to commit suicide, it was horrible but compelling and it seemed like a story that needed to be told.'
In complete contrast to 'Sea of Trees' rumbling undertow is the sparse, unsettling 'Bullet' which consists almost solely of an ominous bassline and Adele's haunting vocal melody inspired by folk tune 'Over the River, Into the Night' from Robert Mitchum classic
The Night of the Hunter
, a treasured influence of the singer's.
The band's best known song to date meanwhile voted itself onto the album and became a contender for lead single almost as soon as it was created. ''The Rain Song' was picked almost before we recorded it' Christian recalls. 'When I joined the band Adele sent over loads of practice room demos and the bassline to it. There's something about it, it had a Joy Division album track feel to it, it was really easy to layer up on that song.' Elsewhere early landmark 'I Am the Mountain' is transformed from its initial incarnation on the
Shadows
EP into a breathtaking widescreen noir-pop opus.
Deriving its name not from a person but a location, the plaintive 'Dorothea' is a subject close to Adele's heart the singer explains. 'It's a place that's special to me, my Mum and Dad used to go there when I was a kid, we went up there recently and we were filming, there's an abandoned mine village, it's really eerie but beautiful as well.'
One of the most recently written tracks, impressive piano-led sign-off cut 'Blue' is a notable departure from what has gone before. 'How that came about I was with a friend of mine who's got a boat and I went down to Cornwall one weekend and went sailing' Adele recalls. 'We were out to sea and there was somebody on the radio calling for help 'Mayday, Mayday' there was this French and English radio interaction. I was standing there recording it on my iPhone. You can even hear the boat creaking.' The cinéma vérité feel is added to with the natural sound of the studio seeping into the track's texture. 'I got Daz to press record, I walked up the stairs sat down and played it' Adele explains of the track's strange ambience, which leads into a mysterious extended fade out of radio static.
Half recorded in the city's waterfront Scandinavian Church and the remainder at producer Darren Jones studio in Liverpool's Princes Park area, the band and producer discovered they complemented each other perfectly. 'He's a really calming influence' Adele says of the We Are Catchers, Clinic and Bill Ryder-Jones producer. 'Anyone else would have killed us' Christian notes wryly. 'Darren worked on it like an extra member of the band to be honest, it wasn't just as 'Producer'. Darren would suggest adding delays to tracks and that's translated into the live set as well.'
'It was very important for us to capture that energy we have live now' Adele adds. 'We're a different band now, it's quite an energetic set and when we played in Europe with Rodriguez, quite a few people described it that way. In Poland people would come up to us and say you sound like The Cure or Siouxsie and the Banshees, they really got it.'
For a group whose songs are heavily atmospheric the members tried to create the right environment for each track. 'We tried to get into a different headspace for every song' Adele explains. 'I think it does leak through to the tracks, the atmosphere is definitely captured, so if you go in and you're just normal and not getting into character almost, you're not gonna get the feeling across.'
In view of the track listing about-turn mid way through the sessions one reason the band manage to re-group so quickly while retaining a live feel to the material is partially down to the players' sharply honed skills. 'Lex was doing things in one take, perfectly to the click and I asked him 'How can you do that?'' Christian says of sticksman Alexis's estimable drumming skills. 'And he said 'When I was learning to play I thought you had to learn to a click track'.
Landing somewhere nearer to sonic architecture than mere guitar playing, Sian's highly imaginative textural washes that form the backbone of the band's sound is overlaid by her spiralling backing vocals, an integral part of the band's make-up, effectively becoming an instrument in their own right. Augmented with the eerie synth lines and swirling white noise courtesy of Christian, the sound FX lends the LP a slight Industrial edge, recalling the tougher moments of Joy Division's catalogue.
With the arduous mixing process completed in one marathon session ('We were there from ten in the morning 'til six the next morning then we both had work' Christian grimaces) the album was complete.
Another facet of the sessions saw the quartet aiming for a more pared-down approach swerving away from the heavily reverbed sound of their previous EP. 'I remember when we'd finished the song 'Ophelia' (lead track from 2013 EP) and put loads of reverb on it I said to (producer) Bill Ryder-Jones 'D'yer think we could have more?' and he said 'Adele, I don't think there's any reverb left in the world. So it's been good to reign it in a bit!' the singer laughs.
'Space has been an important thing, we want people to be able to hear the lyrics we want to be able to tell a story and send a message out' Christian explains. 'At first Adele's vocals were quite ethereal and far away, I was always pushing to take lots of reverb off the voice, it gets into your head more and becomes more intense. We really like that gritty, PJ Harvey effect on her early demos'.
'The lyrics are really important to us, I think people get that' Adele agrees. 'I think that's something that we want to make even better on the second album, if people have got crap lyrics, it just puts me off them really.' 'It ruins it as you want an album to be a piece of art, you want it to work as a whole concept' Christian adds. 'The lyrics need to be as good as the music if not better'.
'I've got a
Tumblr account
which is my main source of inspiration really' Adele explains of lyrical influences, the melange of monochrome images, short film clips and poetry extracts providing fecund material alongside recent discoveries celebrated author/drunk Charles Bukowski, Patti Smith autobiography
Just Kids
and Pulitzer prize winning American poet Anne Sexton.
An immersion in the film soundtracks of Bad Seed guitarist Warren Ellis (
The Proposition
) Darren Aronofsky's go-to composer Clint Mansell (
The
Fountain
) and the minimalist works of Philip Glass sit comfortably next to influences fellow band members bring to the table. 'Lex is quiet big into hip-hop' Christian notes. 'The beat behind 'I Am the Mountain' is pure hip-hop'.
Switching from the musical to the visual, in addition to the band's feted live work and radio support, word has spread via the dazzling videos to the album's lead single 'The Rain Song', succeeded by the equally impressive clip to recent 45 '
A War
'.
'The initial concept came from me then we developed it' Christian explains of the video to
The Rain Song
, a fixed camera perspective on a increasingly bedraggled and forlorn looking Adele as the rain pours down on her. 'We thought that if we started with me looking completely normal then gradually you peel away the layers and realise underneath it's a different story, which it is with a lot people' Adele says. 'That's what the album partly is about, people on face value can seem completely normal and underneath it can be a different story, everyone's going through one thing or another'
Helmed by filmmaking duo Austin Ray and Ben Roberts, the band work closely with the pair, creating a uniform look to their videos and cover art. 'They're involved in our visual side, it's great when they get what you're after, if sometimes you can't see it, they can see it' Adele explains. Ideas are already being formulated for the next video, with album highlight 'I Am the Mountain' is highly likely to be the follow up single,
The successor to the LP itself won't be too far into the future either it seems, with Bird writing at an industrious pace between gigs. 'We hope to be started on the new album by September' Christian states. 'With bands now you get a limited shelf life, we had to get the LP out. We have one thing on our mind and that's Bird. Most days we all meet up and we'll be doing something. Hardly a day goes by when we're not doing something to do with the band.'
'We're just concentrating on writing new stuff now, we work quite fast really' Adele says. 'We haven't had time until a few weeks ago to do any writing 'cos we've been concentrating on getting the album finished. We've already got a couple of ideas on the go for the second album, but just to go back to the drawing board where you're gathering different inspiration from all over the place.'
'We've got our own practice space now, so we're in there as much as possible' the singer explains. 'I really I feel like I need to practice, I have to do it otherwise I'm pacing up down the room going 'Right I need to be doing something.' There's a lot bands who only practice once a week and they're like 'What, you practice four times a week, how do you do that? We need to feel like we're doing something productive. I'd rather spend any spare time we had doing that than watching the telly.' ''Cos we all work part time, any time that we're not in work we're doing band stuff' Christian shrugs. 'Sometimes we'll practice at nine in the morning if that's the only time we can fit in that day'.
'You spend your life writing a debut album' Adele states. 'We haven't had anything out since the Ophelia EP which is a really long time so we're just excited to get the new stuff out and people to hear it.' The excitement should be shared by many if there's any justice as My Fear and Me surely marks the first chapter in something very special indeed.
My Fear and Me is released on Monday 26th May through Baltic Records

BIRD tour:

23rd May –Album Launch - The Kazimier, Liverpool (with Bill Ryder-Jones)
24th May - Dot to Dot Festival, Bristol
2nd June - Joiners, Southampton
3rd June - Brudenell Social Club, Leeds
5th June- Broadcast, Glasgow
6th June - The Compass, Chester
9th June - The Basement, York
10th June - The Bodega, Nottingham
17th June - Craufurd Arms, Milton Keynes
18th June - Railway Inn, Winchester
19th June - Hoxton Bar & Grill, London
21st June - First Chop Brewery, Manchester
19th July - Astral Coast Festival, New Brighton, Wirral
1st – 3rd August - Kendal Calling - The Lakes