Interview: Beta Hector
Lisa Jenkins speaks to the creator of one of Bearded's albums of the year, Beta Hector.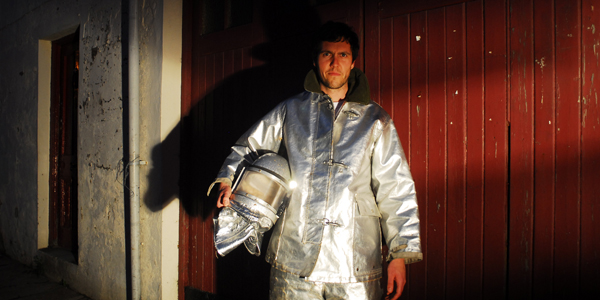 The man behind
Beta Hector
is musician, producer and DJ Simon Hill. As a bass player, he formed the deep funk & soul band Baby Charles. Their debut album received rave reviews in the music press, and they went on to tour Europe and played some major festivals including Glastonbury. Nowadays, he plays upright bass in vintage soul / blues and rhythm band Derriere. He then formed the Beta Hector Band, featuring members of Baby Charles and his other old band Kalakuta Millionaires.
Beta Hector's debut solo album
Sunbeam Insulin
was released in September 2011 and combines a mixture of heavy drums and psychedelic electronic sonics; the album brings a diverse selection of soulful, bittersweet songs and soundtracks, with five vocalists including UK soul queen Dionne Charles and LA MC Shane Hunter. The first single from the album,
Jupiter Mission
, is a disco-inflected sci-fi track voiced by Hill's sister Jo and uses software synths, bass guitar and percussion to depict an intergalactic incident.
Lisa Jenkins
took some time out to find out what has been happening since the album's release.
Bearded: With your past in the successful Baby Charles, a deep funk band in the last few years, what made you start Beta Hector?
Beta Hector: It was because I've always loved hip hop. Probably ten years before Beta Hector was properly signed up by Tru Thoughts, I was always sampling old records and making tunes of my own. So that's the roots of Beta Hector – to satisfy my own personal musical interests, because I've always played in bands, so its really nice to do something on your own, where you don't have to compromise.
What are your influences? Obviously, there's funk and hip hop, but with the album, I get a sense of trip-hop and psychedelic rock in there too.
Absolutely! Yeah, I've always liked Jimi Hendrix and all of that '60s stuff. I like Donovan as well, a lot of his music has heavy drums in it. I love Afrobeat, I love bands like Portishead and Can, another psych-rock-type-thing. Then there's the hip hop – I love all the early '90s stuff, like Wu-Tang Clan, Brand Nubian, Gang Starr. [Also] James Brown for the funk thing. Also soundtrack music like Lalo Schifrin and Burt Bacharach. There's a bit of an electro influence, like I love Kraftwerk, Newcleus, Afrika Bambaataa, Massive Attack. So yeah, it's a bit of a melting pot of influences. Oh and David Axelrod - he's another massive influence.
Would you say gospel or blues is another influence?
Oh, yeah. Absolutely. I love the blues. I was listening to Lightnin' Hopkins just this morning.
Listening to the album, you've got Dionne Charles on there, but how did you choose the other vocalists for the album? Is it just people you have around you, or were there specific people you had in mind?
Well, I'm in another band with Sarah – the singer on 'Sleepwalking' – we're in a Rhythm & Blues band called Derriere. She can be really sassy and brassy, but she's also got this pure angelic voice, as well. So I wanted to do a track with her that was more of a Portishead-type thing. Years ago when I was DJing at a party, my sister was rapping along to 'Rapture' – the Blondie tune - and I remember thinking 'Wow, you're pretty good. I'd like to make a tune with you, one day'. So that happened. Rosie - who sings on 'Trust Me' – was actually my girlfriend, at the time. She's a folk singer, so I wanted to make a track with her that was more of a folky/soul down-tempo thing. Then there's Shane Hunter, the rapper.
How did you come across him?
Well, he found me on MySpace. I used to have a MySpace page, where I'd just put some of my ideas up and he came across it. He's in Los Angeles and he emailed me about it, saying 'Hey man, I like your stuff' and I listened to his stuff and it was very good, so we talked about doing something, but it never came to anything. But all these years later, when I had the potential of releasing an album with Tru Thoughts, I got back in touch with him and said 'I've got this album I'm making' and he was right up for it.
That's great, because a lot of people have been slagging off MySpace. Have you found social media platforms have been a help for you?
Yeah, especially with the way the music industry works, at the moment. As far as I'm aware, it's like if you're an unsigned band and put something on YouTube and it gets an x amount of hits, then record labels start to take note. The Internet thing has completely changed the way the music industry works, I think.
Do you think it's changed it for the better?
It's a difficult question. I suppose I'm a bit old fashioned. I find Twitter and Facebook a bit annoying, but fans do like it when they can put up a comment and you reply to them. It's a nice, immediate way of communicating with fans.
Being with Tru Thoughts, and the way the music business works today, how did you get signed?
I made a four-track CD about three years ago and I sent it to all of my favourite record labels.
Which are your other favourite record labels?
At the time, there was Cat Skills, Ninja Tune (which is still going), Ubiquity, Stones Throw – which is still one of my favourite record labels. Just all the labels that were still putting out half-decent hip hop. What I like about Tru Thoughts is that they're really open-minded; they put out everything from jazz to garage dance-music.
And they've just signed Riz Ahmed, as well, who's completely different. The label seems very eclectic.
Yeah, I mean, I was so lucky. I got an email about a month later from Rob Luis, who said: 'Hi, I've got your CD. I really like it. Gimme a call'. I fell off my chair. It was like a dream come true.
So what happened from there?
They said they liked two of the four songs I sent them and they would make a really good single. It took about a year to happen, so my first single was a 7", which came out last year, and then they said, 'Have you got any plans to make an album?' and I said, 'Yeah, definitely. I've got lots of material, I just need to produce it and get it all together. So I had a very busy year putting it together, and it came out in September this year.
What are some of your favourite tracks from the album?
'Sleepwalking' – I'm really proud of that one - and 'Oracle Bones', which is a hip hop track. When you've got someone like DJ Format saying it's one of the best hip hop records they've heard in a long time, it meant a hell of a lot to me, because he's got such good taste in music.
And Cerys Matthews from BBC Radio 6 said it was definitely one of her favourite albums of the year!
Yeah that was cool, and 'Jupiter Mission', I'm really proud of. That went down quite well, I think. But it's hard because, obviously, I've heard the material so much, [but] I've not actually listened to the album since it's come out. It's quite nice having a live band though, because I'm hearing the music in a different way now.
So how would you describe your sound?
I'd say it's a fusion of heavy drums and basslines with psychedelic analog sonics. Plus there's a huge dose of soul brought on by the vocals. Ultimately, for me, it's a type of soul music.
So for people who want to see you live, have you got any dates coming up?
Actually, the only Beta Hector gig is March 17th in Brighton. We've had a bit of a funny time, because we had a keyboard player, but he quit two weeks before our first ever gig, which was a pain in the neck. So I was reluctant to sort out any more gigs before we found another keyboard player. We've got a new guy, Abe, who plays for the Resonators – one of the best UK-based reggae band I've ever seen. Oh and I'm involved in a James Brown tribute night. That'll happen next Friday, with the guys from Beta Hector playing in it, as well.
So as a person in the music business, how do you go about promoting your music?
In this day and age, you have to gig to promote your music. I think that's part of the reason why not many people might not have heard of Beta Hector. Now I've got a full band, we're gonna start rehearsing and getting a few gigs for the New Year. I think that's the best way to sell records, but I try to tweet and I'm always updating the Facebook page. And the label encouraged me to do a newsletter, so I did that for the first time about a month ago.
When's the next newsletter coming out then?
I'll probably do one in February. Hopefully, I'll have some gigs on at that time.
Have you got plans to release another single?
Yeah, I've been nagging the label to release some kind of vinyl thing, so they've promised the next single will be on 7" and I think [it will come out] early next year. So now I've got to decide which tune will be the next single.
Other than Beta Hector, are you working on anything else that you want people to know about?
I'm doing a side project with Shane Hunter, the rapper, I've made him a couple more beats recently. So that project's called 'Golden Era of Sound' [and] we're hoping to release something next year, like a little 4 or 5 track EP. I've also got another band, called Derriere – we've just released our first single, which is called 'Battle Plan'.
Is that funk, as well?
That's more like vintage soul/Rhythm & Blues so it's sounds more late '50s, early '60s. I play double bass in that band and we've got some gigs in Europe lined-up for next year.
For which ever band you do an album with next, is there anyone you really want to work with?
There's a few rap legends that are still going. I'd love to make a tune with the GZA from the Wu-Tang Clan. But singer-wise, there's a guy called Lee Fields – whose voice is similar to James Brown. But yeah, a lot of the greats are passing away, aren't they?
What's the plan for 2012?
My main priority is to get my band loads of gigs. It's really gonna be a stripped-down, raw affair. There's gonna be five of us in the group. Dionne's gonna cover all the vocals. So I'm actually working with her at the moment, to make the songs from the album suit her voice – I'm gonna make it all a bit more groovy and the instrumentation's gonna be different. And I've almost written my second album, so I'll be producing that soon and hopefully get that finished next year.
Do you like the writing element of it, or the producing element?
Well, usually, the two happen simultaneously. When I say writing it, I mean I have sketches of chord progressions on my guitar and I've always got loads of basslines. I'm often singing little melodies into my phone, as I'm walking down the street. So as soon as I start producing it, I arrange it as I go. So it's a bit of an organic process really and it all comes out together in a musical splurge!
Have you always wanted to do music since day one?
Not at all. I've always loved playing music, but when I was in my early twenties, as much as I loved music, I didn't want it to be a full-time thing. Back then I thought if it was a means of making money, I'd end up hating it. Now I'm doing just that, that way I used to think seems ridiculous, because I totally love it now. I used to be an animator and that was my main job for about six years, but when I was made redundant I [decided] 'I really wanna do music now'. When I was younger, I didn't feel confident enough, but then [I thought] 'Now I'm gonna seize this opportunity'.