Interview: AWOLNATION
Benton Schecter chats to Aaron Bruno of AWOLNATION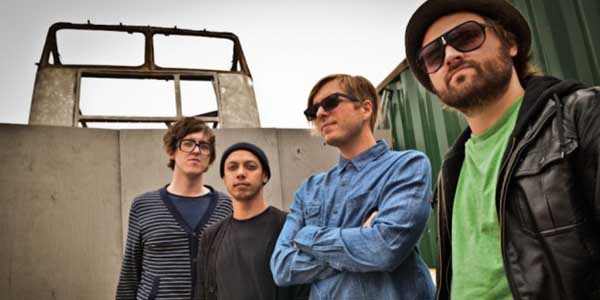 AWOLNATION's
Megalithic Symphony is a skillful exploration into electro-pop, giving birth to some massive singles ('Kill Your Heroes', and the phenomenally successful 'Sail'), and since its release
Aaron Bruno
has enjoyed worldwide acclaim.
But despite the album's ostensible 'happy-go-lucky' atmosphere, AWOLNATION's live show is something else entirely. 'I discovered the hardcore scene, which was massive to me, but I've always liked a good pop song, regardless of how ridiculous the artist may be' Aaron says backstage at London's Heaven.
And it certainly shows. Their set is laced with heavy jams and its fair share of screaming, and Aaron Bruno 's laid-back demeanour is totally dashed on stage throughout a set seething with energy. The whole band is obviously at home on stage. They love doing what they do; live, in fact, they almost seem like an entirely different band. Opening with 'Guilty Filthy Soul', AWOLNATION are definitely a rock band when it comes to the live show, and when, to the audience's delight, the plucked strings of 'Sail' began to sound, it turned the show from a gritty electro-pop gig to a churning, energetic mosh pit.
'It's great to play in front of thousands of people, but you definitely lose that intimacy. I think I prefer the smaller venues, but it's also rewarding to see that you're reaching out to that many people. But there's definitely more energy in the smaller shows.' As he leaps over the barrier and into the eager arms of the fans sardined at the front, you can see he isn't wrong. 'You know, with the smaller shows you don't have to do as much, and there's more energy that you, as a performer, feed off. But if you can move a sea of people, there's something pretty special about that. I guess we're just entertainers.'
'Sail' catapulted AWOLNATION into the public eye, selling millions of copies in the US and Canada, where they have just gone triple platinum. But for Aaron, there wasn't a particular moment where its success became prevalent to him, but some shows early on indicated that things were really blowing up. 'There was this show in Austin, Texas at a small venue and they turned away 400 people at the door. We all thought they were there for the local band on before us! But it got even more insane when we played. I suppose that was my first true 'Beatles' moment.'
But despite the success of the record, and of the current mammoth tour taking the band round Europe, the UK and the US with acts such as Billy Talent, Arcane Roots and Itch (who played a fantastic set on the night), Aaron is confident the band have remained grounded throughout.
'I think rock stars are fucking lame.' He quips. 'It's one thing to be flamboyant or charismatic, but if you think you're entitled to more because people like your music, that's disgraceful to me. I think we've stayed pretty grounded. You know it was hard to believe in the career path that I chose because it had failed on three different occasions. You know, sometimes I look at these plaques and I'm like 'Fuck yeah!' but I'm not going to put them up. I'm more proud to make other people proud.'
AWOLNATION are a fantastic live band. To subvert the pop genre, to twist it into a high-octane, heavy rock-infused performance with such skill and confidence is no small feat, and Aaron is looking forward to heading home before yet another stretch of relentless touring, but also for the band's recording future. 'I gotta write the next record at some point! We've got a couple of songs recorded, and we'll release a few bits here and there to make sure people are still interested. I can't see the new record being released until next year realistically, but I think people will enjoy it.'
AWOLNATION are currently finishing their UK tour with Kongos and Itch to promote
Megalithic Symphony
, out now on Red Bull Records.