Interview: Anchorsong
Nicholas Chapman enjoys a gig and a chat with Anchorsong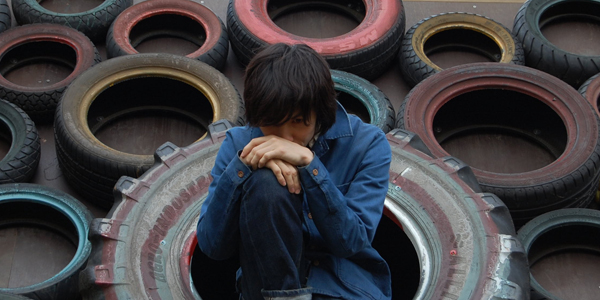 "Like watching a painter drawing on a white canvas". It's a phrase that you'll find in any press release or interview about
Anchorsong
, however having never seen the Japanese beatsmith live before Bearded were struck by how alarmingly accurate this summation is. The affable performer took to the Cargo stage at the launch of his album
Chapters
, released late last year, and immediately won over the packed house with his smiling face and humility before launching into an hour long aural assault. Starting off solo he built tracks sample by sample, demonstrating his deft hands and skill manipulating his MPC 2500 to create full arrangements laden with beats and chunky riffs. Joined on stage by his string quartet Anchorsong performed most of the tracks from his album as well as a couple of older tracks like the energetic 'Devil's Clap'. The string arrangements offset the staccato nature of the sample based tracks nicely and created a visual spectacle that added further excitement to the show. The performance culminated with his final number which evolved from beatbox sounds recorded live into the sampler, into a beautifully sweet piece with chimes and strings, finally climaxing as an all out house track. It was an amazing end to a pretty spectacular show. Bearded took the time to chat to Anchorsong before the show.
Bearded: You've previously mentioned your fondness for Bjork. Did you originally take your name from her song 'The Anchor Song'?
Yes indeed. I wanted to have a name which represents my music, not myself. I had the idea to name it "○○○○song" first cause it surely sounds like a name of a track. Eventually I took it from 'The Anchor Song'. I loved that song very much and believed "anchor" is a powerful word.
B: Your album is influenced by a number of genres. Did you have any concerns about creating a work that sounds cohesive whilst still those influences?
All of my favourite instrumental albums from the past have different styles on each tracks but still sound very consistent, and I wanted to make mine like that. All the tracks on my album have one thing in common, which is being "minimal". I made all the beats, baselines, riffs and even melodies as minimal as possible without losing the sense of proper composition, and I believe that effort gave those variety of tunes a consistency. waffling
B: Apart from your keyboard and MPC, do you use any other equipment in the studio that you don't use on stage?
I like playing the guitar and use it a lot for composing. The reason why I don't play it on the stage is just I'm not good enough to do so.
B: Do you approach writing an album differently to if you are writing an EP?
Not really. I released 3 EPs in Japan prior to the album because I wasn't ready to make a full length. I was aware that the tracks I had written lacked consistency, so I released them as EPs separately. It took quite a long time for me to figure out what's needed to make an album, but I believe I've discovered the directive I should follow by now. I've been producing new materials constantly since then, and hoping to release the follow up album within a year.
B: You were previously quite keen to do some vocal tracks but have since said you'd like to stick to instrumentals. Why is that?
I am still very keen to have singers & rappers on my track, but I have no intention to put them on my album. I want to make it strictly instrumental when I make an album as Anchorsong because it's easier to give it a natural flow from the beginning till the end. To put both vocal tracks and instrumental ones on an album is quite common nowadays, but it's just not for me.
B: You've said that your new album should be out early next year and you'll be taking your material in a new direction. How so?
They are bit darker and heavier, but it's not a totally new direction actually. I established my style with
Chapters
, and I intend to keep polishing it for a long time. The longer I work on it, the more it gets sophisticated.
Your first three EPs were released as double packs with a DVD. Any plans for more releases like that in the future?
Why not...! Live show has always been the centre of this project, and I want the listeners to know how I perform those tracks on the stage. It'd be great to have another release in that format, so let's hope my label says yes….
B: How do the song arrangements differ between the studio and playing live?
The live arrangement is usually more playful and elaborated, and it's especially distinctive when I play with a string quartet. I'd rather keep strings arrangement simple on the recording, but they can get quite aggressive and loud on the stage.
B: Have you experienced any difficulties incorporating the string quartet element into the live shows?
It's never easy to make them sound right at nightclubs. All of my string players use acoustic instruments with pickups, and the nightclub is never an ideal place for them after all.
B: How did you get involved with the Tru Thoughts label?
My manager gave them couple of my tracks from the album first, and they got interested. They wanted to hear more, so I sent the entire album which I had almost completed already. We agreed to releasing it without making any change on it. I told them that I once sent them a demo CD when I was in Tokyo and got their reply with polite "No". They didn't remember it of course, but I felt I took the revenge after 5 years.
B: Will there be any new material or artists coming up on your label Case Study?
Not so far unfortunately. It was made to release Anchorsong's music, so there's no artist on the rosta at the moment. I'd love to release something original & interesting though, so do send a demo to
.(JavaScript must be enabled to view this email address)
if you're interested.
B: How're you finding the London music scene to that of Tokyo? Is there anything you miss?
One of the interesting things about the underground music scene in Tokyo is that there's no particular trend, unlike London. Musicians are just doing whatever they think cool and don't really care if it appeals to many people. Although I do think the current underground music scene in London is very interesting, I'd rather do my own thing than being a part of it. I acquired that attitude when I was in Tokyo I guess.
B: Do you have any upcoming tours on the cards?
I'll kick off my UK tour with the gig at Cargo on 22nd March until mid April. Then I'm heading to Japan/Asia to do the series of shows including Sonar Sound Tokyo 2012. I'll be also touring Europe in the summer / autumn.