Bearded's Guide To… Leicester
Meg Sullivan reports on what's happenin' up in Leicester.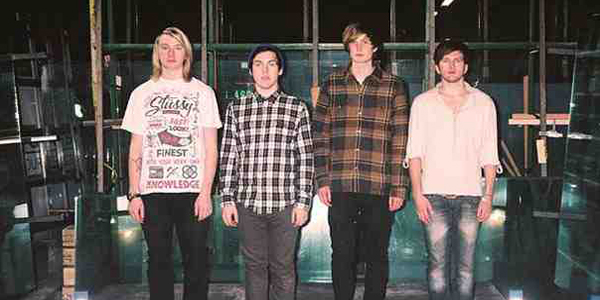 Do you like alternative, American sounding, post-punk/hardcore bands? Then you will love Leicester. Okay, that was a bit harsh. Leicester isn't just full of bands like that, but it mainly is; either that or Kasabian… But because of this it's safe to say we have finely tuned the genre, and made it great, with many of the best being housed in the city. My job is to give you a run-down and update of everything brilliant about the Leicester music scene, so, here goes…
First on my list is
These Furrows
, the "rock/punk/progressive/indie/orchestral/metal" 3-piece. Their latest release
Duke
is one of great proportions. With it's choppy guitar riffs and drums it starts with a heavy math-rock feel, with singer Darryl bringing the old Furrows material into the mix. The whole song is a perfect progressive math-rock tune, layered with repetition and a with a chorus that's so borderline pop-punk, it works. The Furrows lads have been one of my favourite Leicester bands for a while now, and it's becoming apparent that just lately they've been working their way into much more mainstream media, so maybe in a while they won't just be my favourite Leicester band, but yours too.
When I say "Leicester isn't full of bands that sound the same", I'm mainly hinting at the absolutely wonderful indie-pop makings of
Hot Horizons
. The band has made a brilliant mark on the upcoming indie scene, and don't seem to be stopping; playing with bands such as Is Tropical and Egyptian Hip Hop in the past to add to their impressive portfolio. Their sound is rife with beautiful melodies and modern indie hooks, with track 'October' whisking you back to a wistful summer of '76 (or maybe even October of '76).
To once again make my opening sentence seem like a complete lie, comes the reggae/ska stylings of
By The Rivers
. When you first hear By The Rivers, you'll probably assume that they're around 40 and all of Carribean descent, because their music is so soulful; but you would be wrong. The 20 year old lads from Leicester have made quite an impression on the ska scene, being booked to support The Specials on their October/November tour. Even if you're not overly interested in ska music, I strongly recommend you check them out, especially the track 'Take Control'.
Our final band for today are in the form of
Buenos Aires
. The "alternative/post-hardcore/rock" set who're on my good books for the song 'Wo Bu Dong'. It's catchy hooks and mix between singing and screaming is one that makes for a great tune, best listened to when slightly angry with it's generally quite angry feel.
Hopefully I've given you a good mixture there of Leicester bands, all of which you should look out for as they're all moving on pretty well when it comes to the ladder of fame and fortune. Just remember that you saw them all here first…