Bearded's Guide To… Leeds
Jack Sibley reports on last month's Live in Leeds and gives us some tips on releases coming our way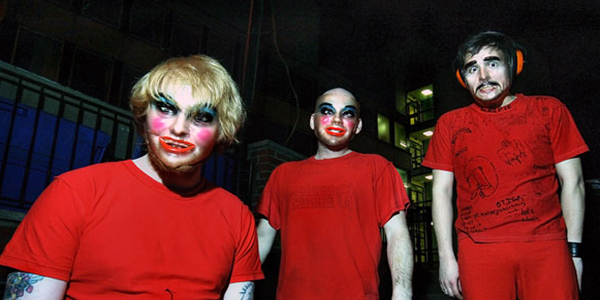 Kicking off the day in the beautiful realm of
the Holy Trinity Church
were
Killing Fields of Ontario
. Folk-pop was the order of the day and, whilst they were not an entirely original group of lads, some catchy vocals and soft chords were pleasantly wafted our way and the scene was set nicely. The acoustics of the church gave an epic quality to the drums and drove home perhaps more importance than would usually be granted. Occasional use of banjos and ukuleles were nice (if only for novelty value) and as the audience sat in silence, Killing Fields had quite the beautiful atmosphere set up.
Next up were Leeds own monsters
Kong
. Having filled out most of
the Cockpit
, Kong scared Bearded half to death for most of their set. Wearing their usual horrific masks and posing blank expressionless faces at the crowd, they pummelled their instruments and put across a feeling of pure emotionless depravity strengthened by the sheer force of their disjointed riffs. Consistently insistent, Kong display such detachment from their music that it almost seems as if they're completely oblivious to the fact that what they do is so disturbing. This only serves to heighten the fear and really puts the cherry on top of this rotten cake.
A quick jog upstairs and
Castrovalva
are putting the younger attendees in a frenzied state. Also hailing from
Brew Records
, Castrovalva have quite a different sound to Kong. With the trademark blue C emblazoned upon their chests, you have to understand Castrovalva's sense of humour before you're going to appreciate their music. Bouncing about (to the point where the floor was shaking underneath us) across centre-stage was frontman Leemun Smith, most of whose time was being taken up calling people 'dickheads' and shouting Devo-esque nonsense across the top of the jumped-up beats from Anthony and Dan. Perhaps not for those who consider themselves 'serious musos' but most certainly a lot of fun.
A quick trip over to the
O2 Academy
(where upon arrival one orange and six tomatoes were confiscated... for some reason) and anticipation is in the air for
James Blake
. Unfortunately however, the set proves a disappointment. It's not really that he and his two companions didn't play well and there were certainly no sound problems, but the general atmosphere in the academy was dull. In such a large empty cavern with people constantly milling about, Blake's slow, soft sounds failed to make an impact. He played some nice songs but made no effort to connect with the audience and one can't help but speculate that he may have been greatly improved by a more intimate venue.
Back to some more heavy Leeds-native fun as
Blacklisters
played their delayed set at Leeds Met. Always an explosive and interactive performance, lead singer Billy threw himself about in the standard fashion that his fans know and love. Playing to a regrettably small audience meant that it was generally a crowd made up of fans and long-term admirers which added a special tint to the happenings. Mashing out fantastically executed versions of 'Trick Fuck' and new track 'Club Foot by Kasabian', the band played on as Billy played with the audience, handing the mic around and falling onto whoever was nearby.
A short sharp shift in sound as we rocked up to the Leeds University union to gaze in awe upon the fallen fairies that are
Slow Club
. Elevated from the crowd, soft rocker Charles Watson and English rose Rebecca Taylor stared faintly into the middle distance and wove their magic across our dumbstruck faces. A mixture of new material and old classics, Slow Club were energetic and reflectively peaceful in equal amounts providing witty northern banter in between songs that displayed their warm, down-to-earth outlook. 'Giving Up on Love' and 'Because We're Dead' supplied obvious highlights and the tracks were played with perfection, passion and smiles that are rare to see.
Back down the road to jump back into
Leeds Met
and catch
The Twilight Sad
who provided the second disappointing set for the day. Despite an impassioned performance from the frontman, their allotted hour consisted of pretty much the same thing throughout. With a constant sound that revolved around standard songwriting techniques, the hype that Bearded had received was apparently misinformed.
Finishing off the night was
Aloe Blacc
at
the Faversham
. Firstly I'd like to get a few things out of the way in order to give this a fair review. Aloe Blacc is not the reason this is a great musical event; his band are. Also, the musicians backing him up are not doing anything very special. They're playing very good soul but it's all based on a formula that has been around for a very long time. So if you're going along to see something fresh and inventive on the soul scene, there's no reason to particularly bother with this. However, if you're going to see Aloe Blacc, he'll give you everything you want. Emphatic and charismatic, his stage presence is phenomenal. Playing pretty much the entirety of his latest album, Blacc had the crowd boogying on down and clapping their hands long into the early hours of the night. Blacc's voice soared over the heads of the crowd and he gave them everything they asked him for and only soaked up our energy to turn around and blast it back at us. So, in summary, don't go to see Aloe Blacc for intelligence or ingenuity, go to see him for the personality and sheer brilliance of his classic soul performance.
******
In other news, acclaimed noise-operator
Juffage
will be releasing his new album on June 6th and has already embarked on his UK tour to promote it. Be prepared for him to do anything onstage though. Whilst he will probably be playing songs from his latest release, Juffage is as unpredictable as he is eccentric and could pull anything out of his bag of tricks.
Three Trapped Tigers
will release their
Route One or Die
at the end of the month and will be playing a free gig at
Nation of Shopkeepers
to show it off. With a more serious take on what is essentially a Vessels-like brand of post-rock, Three Trapped Tigers are precision incarnate live and, with support coming from Tall Ships, this is an event not to be missed.
Leeds songsmiths
Hope and Social
released their album
Sleep Sound
on the 13th May and have put it on Bandcamp with a 'pay-what-you-want' scheme. The album was recorded in an impressive 30 working days over a period of three months and is their third album in three years. Touring has already commenced and will continue throughout May.
A final recommendation for a regular gig night goes to
360 club
which is held every Friday night upstairs in the Library pub. Organised by the passionate Rich Watson, it is fantastic that Leeds can support such a great scene that four live bands of high standards can be found to play weekly gigs. Having recently put on Vessels, the night is gaining popularity and more and more bands are finding it a welcoming platform from which to purvey their wares.