Bearded's Guide To… Brighton
Lydia Stockbridge tells us all about our beloved seaside town of Brighton...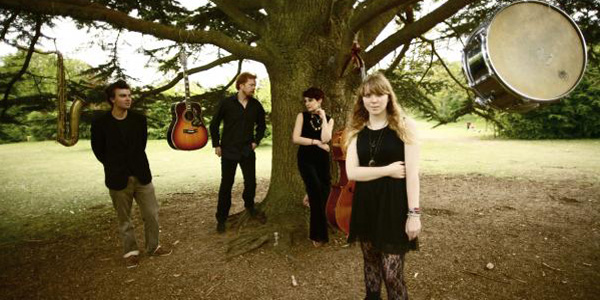 So, this month, we may have waved goodbye to cult clubnight 13 Monsters at the Battles afterparty at Concorde 2 Friday 3rd, but like a multi-headed beast, several nights are popping back up over the city to take its place. Here's a little rundown for ya.
The go-to guide to Brighton music, Brighton SOURCE magazine are launching a new music night with the Dome to showcase all the talent they bang on about in their well-thumbed pages to the stage. Their launch night Wednesday 8th June will be showcasing the much-missed Gloria Cycles (may they rest in peace) frontwoman
Jennifer Left's
first solo debut show. I got a sneaky peek at some demos - my she has a wonderful voice, I thoroughly recommend going down to see this. Supporting will be
Apples and Eve
, who for those of you lucky enough to get a look-in at Great Escape this year will know they're worth turning up early for: haunting 'come hither' vocals, a pinch of blues and yes, they do make the saxophone sound sexy.
Early Ghost
bring a more upbeat twang to the line-up, with more brass, a bit like Bright Eyes singing Beirut – picture it! Baroque-poppers
Bella Feud
round it all up nicely.
http://www.brightondome.org/
The
Sussex Showcase
event ticks all the boxes for everything needed for a summer show: they've got home-made ice cream from Dylan's Ice Cream's Cow Van serving up fresh scoops of strawberry swirl, award-winning chocolate, vanilla and malt plus a couple of other seasonal extras; a feast of sausages from the Brighton Sausage Company; an exhibition of prints, collage and illustration from local artists Hannah Clare and Tessa Lyons; a pop-up shop from Brighton's Handmade collective of Kemptown selling one-off pieces and cherry-picked shop favourites; and then there's the bands. Crowns On The Rats Orchestra are performing in their new guise,
O You Broken Eyes
, alongside the soulful sounds of singer-songwriter
Faye Houston
; and the six-strong
Susie Clarke Collective
. Opening from 5pm at
the Green Door Store
Wednesday 15th June for the bargain price of £3, it's a good way to kick off the weekend early.
Doin' it for the kids,
Winning
be playing 'Black Flag to Blink, Movielife to Misfits, Brand New to Botch' for free before midnight from Wednesday 8th June at
the Haunt
. Yeh, they've got skate videos on the projector, metal giveaways, 'cause raffles are so punk right now, and drinks deals to make your puke till your down with the sickness.
Surfs up sports fans, the
Paddle Round The Pier
festival is back on
Hove Lawns
Saturday 2nd to Sunday 3rd July, pier-to-pier races, mountain climbing, skating, and all the other extreme sports your parents warned you about, it's all here at Europe's biggest free beach and watersports festival.
Holy Vessels, Morning Orchestra
and
Kalakuta Millionaires
will be performing in
the Paddle Village
over the weekend, with no wristband involved. The pier-to-pier race will be back, along with skate and BMX ramps, three half pipes, and for those who don't like to get their toes wet, kamikaze tarp surfing.