Bearded's Guide To… Liverpool
Missives from musics' frontline in the port of Liverpool. Liverpool Music Week, Dan Croll and Milk: Presents all feature. Richard Lewis is our guide.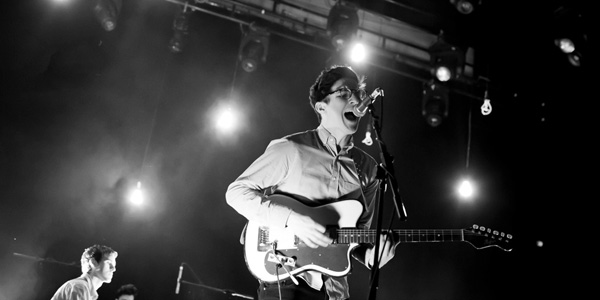 The biggest winter festival of its kind in the UK,
Liverpool Music Week
now in its ninth year, celebrated its most successful run to date this month, drawing in possibly its biggest crowds for its most audacious bill.
With the out-of-town headliners including Frankie and the Heartstrings, The Duke Spirit, Twin Sister and Summer Camp, the city provided a deluge of bands that haunted the spiritual home of the festival at the city centre Mojo Bar.
Local promoters
Obscenic
pulled off an incredible coup, bringing
Seun Kuti
to the city, to play one of only three UK dates. Son of late Afrobeat legend Fela, who is credited with bringing Nigerian music to a world audience, Seun's live reputation is fast approaching that of his iconic father.
A former student at Liverpool Institute of Performing Arts (LIPA), Kuti's 18-strong band blew the roof off a packed to the rafters Kazimier as the ensemble, veterans of scores of festivals the world over showcased their scalpel-sharp live skills to stunning effect.
Elsewhere,
Emily & the Faves
evergreen indie pop/inspired psychedelia and
Fly with Vampires'
blazing classic rock/bludgeoning Black Sabbath rhythm section turned in superb sets supporting Baxter Dury and The Young Knives respectively.
The undoubted highlight of the fortnight-long shindig however was the
Liverpool Music Week Closing Party
.
Held at the cavernous
Contemporary Urban Centre
, the event saw the CUC finally prove its worth as a venue after being largely passed over due to its distance outside of town.
The labyrinthine structure firmly put itself on the map with an extended ten hour blowout, comprising of eight live rooms over four floors, hopefully heralding a new addition to the gig circuit.
Headlined by Mercury Prize nominee Ghostpoet, unhinged Brooklyn rockers Cerebral Ballzy, electro-punks The Whip and alt rockers The Phantom Band, all of the above and a raft of Liverpool acts pulled in north of a thousand attendees to the multi-roomed venue.
The much-tipped
Outfit
were viewed by an ecstatic full house, while recent Heavenly Records signings, psych-folk trio
Stealing Sheep
continued their effortless rise.
Lucky Beaches'
cutting-edge pop was on blistering form, as were venerable prog rockers
Mugstar
, summoning up their customary wall of noise, deconstructing and rebuilding it as they saw fit in a lengthy, slowburning set.
Still rammed by 2am, a slew of DJs including
Clinic
took revellers into the small hours as the less battle hardened sloped off in search of taxis.
With Liverpool Music Week affording acts on the up-and-up in the region high profile slots alongside national acts, singer-songwriter
Dan Croll
(pictured) proved to be the most notable at this year's shindig.
Turning heads in the city and beyond in recent months, Croll won the Musician's Benevolent Fund songwriting award for new talent in February this year. His set at LMW supporting Benjamin Francis Leftwich meanwhile saw him crowned highlight of the evening.
Operating in similar territory to Beruit and Fleet Foxes, Croll's exquisitely rendered songs sound like pocket symphonies even in demo form. Tracks like 'Home' and 'Closer' begin with delicately played acoustic guitars before exploding into multi-instrumental life a la Arcade Fire. Elsewhere, the giddy, Parisian waltz of 'Marion' displays the breadth of his songwriting talent.
Croll's highly detailed first person lyrics, juxtaposed with the glimpses of world music heard in his material and his skillful arrangements firmly demonstrate his ability to breathe new life into the mantle of singer-songwriter.
With a pair of gigs later this month in London and Birmingham, fans of 'Graceland' -era Paul Simon or anyone who fell under the spell of Bon Iver's early material would be well advised to see him before bigger stages beckon.
On a completely different theme, a new presence in the city centre opposite the landmark St. Luke's Bombed Out Church meanwhile has seen the emergence of a major new force in Liverpool music.
Over the past few months the enigmatically titled
Milk: Presents
have been making a name for themselves via a drip-feed of excellent low-key gigs and word of mouth.
In a climate of arts funding cuts and independent venues struggling against corporate chains, some like-minded souls in the city decided they weren't going to take such developments lying down and actually did something about it.
Describing themselves as a 'label/events/recording/design' company, Milk: Presents quartet of founding fathers oversee a vast, multi-levelled complex that packs a performance area, recording studio, rehearsal rooms, artists' space and other creative launch pads under one roof.
With the city sorely lacking a place were creative types can hang out, work on projects and exchange ideas largely free of charge, Milk have effectively managed to redress the balance in a single swoop.
Due in part to its central location the new residents have wasted no time in turning their portion of the listed building into a cultural hub.
The debut gig staged at Milk HQ last month was a crowded affair featuring sterling Mancunian shoegazers The Louche FC and Liverpool's most-likely-to-by-a-country-mile
Lucky Beaches
.
In addition to all of the available artistic space described above, the organisers have creative pursuits beyond music. Branching out into poster and T-shirt design, the group stirs memories of Factory's music-art-gig space aesthetic in Manchester over quarter of a century ago.
Crucially, the minds at Milk are able to offer all the rented space to interested parties at extremely reasonable rates. Rehearsal rooms are cheap and shows taking place at the venue are scrupulously pegged at £5 and termed a donation to keep the place running, instead of the standard admission fee.
With the practice and recording rooms buzzing, several Milk alumni are due to step blinking into the red-tinted light of Milk HQ's performance area and venues further afield over the coming months.
While only early days, the drive, determination, and above all sheer talent and ideas on display means you wouldn't bet against them in time possibly having the same cultural impact on Liverpool that Tony Wilson and Co did on Manchester.