Bearded's Guide To… Liverpool
A digest of musical shenanigans on Merseyside by Richard Lewis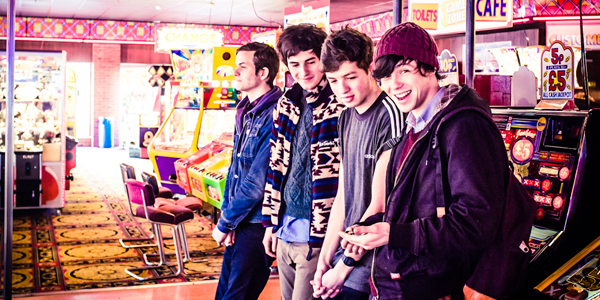 While much of the nation shivered during the cold snap, Liverpool after the pasting it took this time last year escaped largely unscathed. Intemperate climate or not, it would have had little or no effect on musical activity in the city over the past month which has been amazingly busy for a supposedly quiet time of year.
The Threshold Festival
held across a handful of venues in the Baltic Triangle area just south of the city centre saw in its second year and thrilled to the sounds of
The Thespians, Stealing Sheep, Laura J. Martin
and
Chelcee Grimes
.
Heavyweight city-based promoters
Harvest Sun
debuted an extremely welcome free night at the pleasantly bijoux surroundings of cafe venue MelloMello with a bill including rising ambient/electro star
Faded Gold
and the sublime
DassUnser
, more of whom to follow.
Elsewhere vintage psych purveyors
The Wicked Whispers
continued their upward trajectory heading out on the road nationally with evergreen indie popsters The Lightening Seeds. On home soil meanwhile
Fonetiks
triumphed were Guy Fawkes failed, successfully blowing the roof off a basement with their Discopolis support slot at The Shipping Forecast.
And now for some bands to sate your appetite...
Ninetails
(pictured) have been turning heads only mere months since first alighting onto a stage. An exacting combination of prog, math rock, electronica and obscure pop, their songs writhe their way into the listener's brain deliciously. Able to run the gamut of off the wall time signatures, complex basslines and frantic guitar work, the group manage all the above without sounding unnecessarily obtuse.
Debut EP
Ghost Ride the Whip
, released last October served notice of their arrival, the three tracks vaguely redolent of the contemporary likes of Foals with a side helping of influences both mainstream and obscure.
Signed to innovative indie label
SuperstarDestroyer Records
, the workings of the quartet's debut LP are seemingly in the can already. Offering up their tracks for remix, the band also assemble their own monthly podcasts shedding light on their influences and giving support to fellow musical travellers. Having recently logged a support slot with Errors and piqued the interest of BBC 6Music's Gideon Coe, an upcoming engagement supporting Diagrams and Yeti Lane speaks volumes about where they're headed.
Best sampled on upcoming single, the spiralling 'Rawdon Fever', the quartet cram enough guitar riffs to fill four songs into one compact whole without losing an ear for a melody. Accompanied by a brilliantly off kilter video painstakingly constructed using stop-motion animation by artist Molly Hawkins, head over to YouTube to see it in all its warped glory.
Elsewhere in the city
DassUnser
, glimpsed in last month's Guide have been dazzling a growing number of enthusiasts with their pitch-perfect melancholy disco. Despite the huge number of guitar bands that have emerged from Merseyside over the past half century, O.M.D.'s groundbreaking influence and the presence of electro acts Ladytron and Forest Swords cannot be understated.
The present group's stately electropop, combine O.M.D.'s way with a tune while sourcing vintage New Order guitar riffs, mid-period Depeche Mode flourishes along with an undertow of Giorgio Moroder's endlessly uncoiling synth patterns.
Easily able to recreate live the subtle nuances and deft lyrical touches found in the studio bound versions, their catalogue now stretches to seven slivers of downbeat electronic beauty. 'Fallen', constructed around a classic Moroder synth pulse is arguably their strongest moment to date, the five minute dancefloor blissout easily able to be twice the length and still remain as compelling.
Lyrically, the trio deal in joyous odes to the night before or downbeat tales of the morning after, the understated approach allowing their spacious electronic grooves to slowburn into the subconscious beautifully. With an intensive period of recording activity undertaken before they showcased their sound in the live arena, their imminent debut release is highly anticipated.
Ninetails' single 'Rawdon Fever' is released on 27th February