The Cadbury Sisters - Sarah (Fear of Fiction)
Bristol siblings switch instrumentation and make leap forward on sterling new set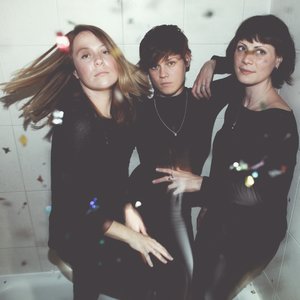 Going back to last year's release by
The Cadbury Sisters
Close
, it's hard to see how they were really thought of as folk. Do we tag everything with acoustic instruments and close female harmonies as folk now? Clearly the sisters were confused as well (and in fact said so in recent interview with Bristol Live Magazine) as they've shaken off their roots in a reactionary manner with follow-up
Sarah
. In an EP that begs to be called epic, they've cast off any instruments remotely regarded as traditional and crafted themselves a whole new sonic world; one which perhaps even more evocatively sets the scene for their beautiful vocal tones.
One key theme of
Sarah
is loss, or fear of loss. 'Sleepless Nights' and 'Drifting' are obvious examples but even the upbeat positivity of 'Get This Feeling' ('
this is a game we both could win
') is tinged with vulnerability and anxiety, constantly asking Why? Given this theme, it is a brilliant work of structure that they start on a track about reassurance - telling the vulnerable
Sarah
that she needn't fear the night. It shows a knowledge of, and preparation for, the journey to come; one marked with love and loss before finally landing on 'Doing the Same', a track about acceptance of situation and self, and sorrow only for the unavoidable spaces between people.
When listening, one should be wary of the inference that all the songs are about a single character. This belies the complexity of the sisters' writing when a track such as 'Drifting' so clearly says so much about themselves. Given that The Cadbury Sisters
are
actual sisters and sibling relationships in such a high-pressure working environment as the music industry can quickly become strained as each tries to find their individual voice ('
I'm sorry I didn't hear you
'). We should regard it as a blessing that they have demanded to 'keep this together for as long as we can' and released this EP at all.
Sarah
is a huge step forward for this trio, not only for the development of their timbral vocabulary, but for their self-awareness and cohesion as a group. It is an EP which delves deep into carefully chosen themes and arrives at a unity perhaps not previously understood; one which also contains vital acceptance of faults and sorrows, whether internal or external.
The Cadbury Sisters Links