Stealing Sheep - I Am The Rain (Red Deer Club / Idle Fret)
Liverpool based all-girl trio deliver stunning, eclectic four track EP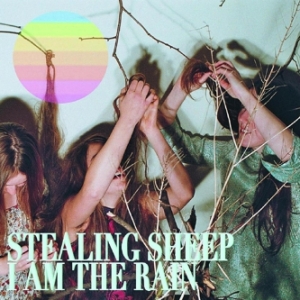 Fresh out of the pressing plant courtesy of a hook-up between ultra-hip labels Red Deer Club and Idle Fret, Stealing Sheep's new EP continues their creative ascent. Available on limited edition vinyl only (the tracks can also be streamed or purchased from the group's
Bandcamp
site) as a 7" single with four tracks, the release is reminiscent of the Beatles' run of early sixties EPs before the form sadly became obsolete.
Beginning with 'Noah's Days' slow glide, powered by ominous keyboards, slow vocal incantation and thudding drums, changes shape with the arrival of Emily Lansley's wraparound guitar tones.
All-too-brief at barely two minutes long, the title track opens with a Moroccan sounding clangour before heading across the pond to settle at the Andy Warhol's
Factory
circa 1967. Led by an omnipotent Becky Hawley vocal gazing down from the clouds, the track wonderfully evokes the Velvet Underground. Evoking a softer, feminine spin on Lou Reed's ultra-kinky 'Venus in Furs', the saturated guitar tone harks back to The Beatles' finest B-side, 'Rain'.
Next up, obscure nursery rhyme 'Bats' patters along on gentle waves of cymbals before rumbling into the chorus care of Lucy Mercer's tom-tom drums. Dimly like Kate Bush in its rhythmic drive (think 'Sat in Your Lap') the trio's harmonies spiral upwards vertiginously.
Final track 'Secrets' resembles an even more radical departure, a kaleidoscopic resume of unused song snippets, assembled as one track. Beginning with a trip hop tune that clips along quickly, similar in feel to Radiohead high point 'Idioteque' the song creates the effect of punching through a succession of radio stations quickly.
A majestic record all round, the EP heightens expectations for the band's imminent debut album even further. A German website profiled the trio recently and neatly described the band's output as 'grandiose muzik.' Couldn't have put it better myself.