Seeland - Under Abraham's Mind (LoAF)
There's always something to be said for a genuinely great, daring and different cover version. Whether it's Sonic Youth's take on Madonna or Serafina Steer covering Brian Eno, hearing a magnificent re-imagining of a familiar song can be a thrilling and surprisingly affecting experience.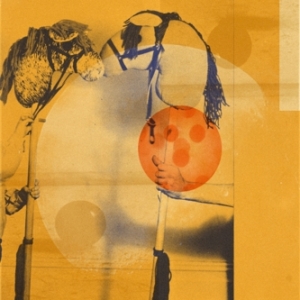 Coming shortly after their recently released second album,
How to Live
, this three-track EP finds Birmingham duo Tim Felton and Billy Bainbridge – former members of Broadcast and Plone respectively – stretching their legs further in their quest to meld experimentation with wonderful melodies, again joined by new bassist Neil McAuley.
The trio of songs they reinterpret here are preposterously diverse, but in Seeland's world they're all decorated with the same sunshine (electro) pop veneer; a sprightly sheen which encompasses key touchstones such as the 1980s synth-pop of Human League combined with oodles of psych, a lick of library music and references to some of the BBC Radiophonic Workshop's most futuristic flourishes.
All electronic whooshes and glissando melody, the duo's version of Dion's 'Abraham, Martin and John' is a sweeping slice of pure pop littered with their idiosyncratic touches, which include nods to Italian movie soundtracks, underpinned by Felton's world-weary croon. Transformed into a spacey, dream-pop lament, it retains the sense of loss and tenderness so central to the original.
Channelling an entirely different sensibility, 'Mindrocker' is a version of the song by 1960s garage rockers Fenwyck and sounds like it's been recorded by Brian Eno circa
Here Come the Warm Jets
. With a krautrock-like pulse at its heart, Seeland's psych adventure is reminiscent of retro-futuristic favourites Stereolab, playful and charged with bouncy intent.
The final track on the EP twists John Foxx's 'Underpass' into an icy synth-pop gem, shedding the song of its noir-ish origins and imbuing it with a bristling kinetic energy which propels it at breakneck speed. The three-piece's analogue electronic pop is given room to breathe, and this EP underlines the fact that – away from crafting their own crystalline pop vignettes – they can inject something completely new into other people's songs too. Flitting between lysergic melody and dark intensity, this is a compelling companion piece to their second album, and a brilliant pop exploration.