Saint Etienne - Dive (Heavenly Recordings)
Alt. pop stalwarts cover all the bases on assured and lovely new EP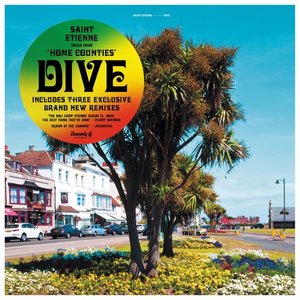 Over the course of nine studio albums and, astonishingly, nearly three decades (!),
Saint Etienne
have become bona-fide national treasures.
Meshing a deep love of pop in all its forms with an unabashed romanticism, they have consistently created beauty from the everyday. Sarah Cracknell may not have the world's greatest vocal range, but her honeyed tones and poignant lyrics are a perfect match for Bob Stanley and Pete Wiggs' hook-filled, emotive retro-modernist pop.
They're obviously on something of a roll at the moment: just months after their recent
Home Counties
album, this four-track EP, comprises slinky disco strut Dive with three new tunes (plus two EPs of Dive remixes).
Once more, nostalgia spurs the band's creativity as Cracknell ponders leaving her hometown Of Windsor for the bright lights Of London - and the feelings prompted by a return back home.
The production is great throughout - warm, detailed and redolent of 70s disco and AM radio pop. Dive's joyous disco groove, live drums and horn-boosted Latin vibe recall the summer we never had. Cracknell's instantly recognisable purr of a vocal is the cherry on a particularly tasty cake.
London Like a Distant Sun dials the tempo down while ramping up the nostalgia. Over minimal Nile Rodgers rhythm guitar, it references Dive's disco feel while also indulging the band's loungey side, with ace organ and sigh-along chorus. Lovely.
Like a blurred childhood photo, short-but-sweet filmic instrumental Doods Brow segues into the EP's finest moment, the gorgeous closer Obvious.
From the organ and acoustic guitar intro to its spoken word narrative, beautiful chord changes and harmonies you could drown in, this is an understated epic, a warm hug of a song from the band's more 'indie' side. It's reminiscent of the Boo Radleys' ace From the Bench at Belvedere, ending in style with rippling piano and strings.
These songs recognise melancholy and loss but remain life-affirming in the extreme, with a gift for melody most acts would kill for.
They've still got it. Dive in... the water's lovely