Lovecraft: The Nervous System (Self Released)
Liverpool avant-pop crew unleash excellent second LP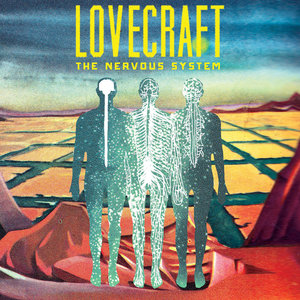 Following the acclaimed whimsical prog-pop of 2011 debut LP
Whistle and I'll Come To You My Lad
issued through legendary Liverpool indie label Probe Plus, avant-pop crew
Lovecraft
return with magnificent second course
The Nervous System
.
With excellent single
Häxan
appearing on Halloween 2013, the present set was some two years in the making. In addition to boasting a tougher sound with greater emphasis on the rhythm section, the band's sound is newly awash with synth textures and programmed beats, repeated listens revealing more elements each time.
Proxy opens the set with a Doors-esque Hammond organ led riff, lead singer Craig Sinclair's lyrics appearing to deliberately invert the kind of words Jim Morrison would deliver, '
I'm here to disappoint you/I'm here to crush your dreams
'.
Arcadia Lake second is possibly the album's summit, managing to cram a crunching Black Sabbath-esque axe riff next to soft, flute augmented bucolic pop making reference to Deborah Kerr along the way, possibly citing
The Innocents
(or overlooked yet brilliant proto-
Wicker Man
flick
Eye of the Devil
).
The LPs intricate, highly detailed arrangements reach their apogee on Loophole which combines skittering beats, submerged vocal harmonies and guitar samples to wondrous effect before bowing out in a beautifully arranged string and horn coda.
Venturing into the surreal, Becoming More Liquid delves into a mutant cabaret style bridge that suggests a cassette tape raveling up while Love Rules the Grove is a wobbly VHS of an East European film soundtrack. Oscillate meanwhile brilliantly solders sinewy math rock rhythms with a honking sax section, a sampled coughing fit and a vocodered lead vocal that somehow completes its journey in under four minutes.
The (relatively) straightforward Spectral Corridor, established on a thrumming guitar figure and rumbling beats builds to become one of the best things here, while the strangest cut Disappearing Road opens as a procession-like instrumental that gives way to a slowly unfurling synth riff and drum pattern that suggests incidental sci-fi soundtrack music .
Sweet sign-off track A Ring Around the Roses concludes the album with Gorky's Zygotic Mynci/Euros Childs style rustic pop with a chorus that shifts through its chord changes deliciously. The track's refrain '
As one door closes/another often closes
' meanwhile proves to be poignant, as it seems that the LP is the band's swansong, something of a crying shame on the evidence presented here.
Available on Bandcamp from here