Happyness - Tunnel Vision On Your Part (Moshi Moshi)
Rising London based, US inspired alt rock trio unveil impressive five song EP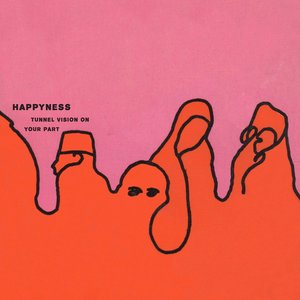 Ostensibly a stop-gap between albums,
Tunnel Vision On Your Part
sees lo-fi indie trio
Happyness
follow up their praised
Weird Little Birthday
debut with almost-half-an-album's worth of material. Lead single Anna, Lisa Calls issued last month opens the five track set in harmonizing, power-pop mode, based around a sighing vocal.
Friend of the Revolution by unheralded Athens, Georgia band Club Gaga evoking visions of Monty Python's Brian attempting to join the People's Front of Judea in the backing vocals '
We don't know about that/Got to prove it to us
' follows next. The inclusion of the cover makes perfect sense, as Club Gaga lead singer Bryan Cook later moonlighted in side project Hindu Love Gods with fellow Atheneans including with three-quarters of some band called R.E.M. with the current band possessing the knack Rapid Eye Movement had in early IRS years of creating left of centre jangle rock.
Indeed, Happyness could easily be confused for a band from the 1980s indie mecca of Athens, GA, yet the London based trio imbue the material with enough of their own idiosyncrasies to bring a fresh spin to the material. In much the same vein is the sweetly melodic Pavement-esque SB's Truck. While the subject matter: groundbreaking playwright Samuel Beckett gave legendary 1980s wrestler (and
The Princess Bride
co-star) Andre the Giant lifts to school when he outgrew his old man's car sounds like an internet hoax, the story turns out to be factual.
Delicate acoustic waltz Surfer Girl swerves away from having any elements of surf guitar within its double bass and lightly tapping drumbeat a demonstration of the trio's versatility. The lengthy title track is filed last, an extended stroll that the closes with the refrain '
As the credits roll forever
'. Firm proof that their debut LP was far from a one-off,
Tunnel Vision...
pulls off the double whammy of standing firmly on its own feet while stoking anticipation for the next Happyness album in formidable style.
Happyness play:

Sept 30 The Finsbury, London
Oct 8 Vauxhall City Farm, London

Twin Peaks support dates:

Oct 19 Le Point Ephemere, Paris FR
Oct 20 Patterns, Brighton UK
Oct 21 All Years Leaving Festival, Hare & Hounds, Birmingham
Oct 23 Bungalows & Bears, Sheffield
Oct 24 Brudenell Social Club, Leeds
Oct 25 Sound Control, Manchester
Oct 26 Scala, London
Oct 28 Botanique, Brussells, BE
Oct 30 Merleyn, Nijmegen, NE
Oct 31 DBs, Utrecht NE
Nov 01 Vera, Groningen NE