Fickle Public - Greatest Hits (Smalltown America)
Bit of a long overdue swansong from a much missed Fickle Public.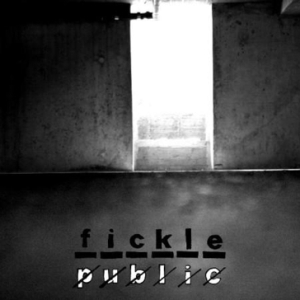 It seems this EP,
Greatest Hits
, has a sad tale to tell. Fans of the band have been clamouring to hear the previously unreleased tracks, what could have been their follow-up album before their split in late 2006. Four years is a long wait, but the tracks don't seem to have aged a bit in between. It's like they never left.
Originally inspired by everyone's hardcore favourites, Fugazi, At The Drive In and Idlewild; even in these session tracks, Fickle Public still pull together the inspiring elements from each with their own wry pop edge. Visceral yet approachable noise, striking out of the old models and making it their own, like a lot of other post-rock bands of the time, Hundred Reasons and Reuben, for example. Except Fickle Public kept it a little darker, than these two. It's lo-fi, full-fat sound, rich with reverb and rolling melodies that peel off smoothly.
Opening track 'Adam Hocing' certainly leaves an impression. Big, bold and smacks of 'One-Armed Scissor.' It's a little disappointing, especially for an experienced act such as these. It's in their quieter moments they shine the brightest. 'San Diego Hair' is a wonderfully progressive track that's all them. Of course, if the band had continued and put out a second album, we doubt we would have ever heard this collection of songs at all, or at least, they probably would've sounded quite far removed from what we're hearing now. It's like rifling through someone's blueprints listening to this.
Having said that, it would be a great shame to never have heard 'Non Stop Hot', by far my favourite, it's swaggering melody is almost akin to early Blood Brothers, but with punk gang vocals. After all this mixed praise, we wonder, will they be picking up where they left off, we wonder. Only time will tell, but here's hoping.