Diagrams - Diagrams (Full Time Hobby)
Debut EP makes us long for more.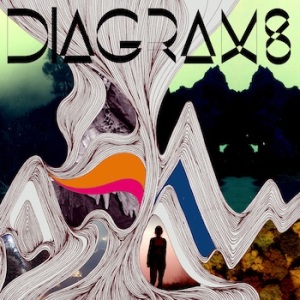 Out of the ashes of his departure from Folktronica stalwarts Tuung, Sam Genders returns under new alias -
Diagrams
. If this debut offering is anything to go by it's as much UK music scene's gain as it is his former band's loss. Under the Full Time Hobby stable, Genders looks set for a new level of success.
Whether the minimalist, contemplative layers of 'Woking' or Full and lush depth of 'Antelope',
Diagrams
is a crisp and intelligent release. The lyrical content is thoughtful and introspective, and perfectly in keeping with Gender's low key vocal stylings, whilst the production is provoking and snappy, yet un-intrusive.
There is a possibility that due to the regional accented vocal that an Elbow or Badly Drawn Boy-lite tag may stick but that would be grossly unfair. Obviously, Garvey and Co and the current leader of this particular genre but there is a freshness about these songs as a collective which screams for recognition in it's own right. It would not be a surprise to see Diagrams match there luminaries for longevity, if not immediate air play.
There are occasions, when it becomes more traditional guitar lead folk, notably at the beginning and very end, and the vocals move into Fleet Foxes or The Head And The Heart style harmonies but in general there are a lot more colours to digest. The best thing about
Diagrams
is that everything seems measured and exactly where they should be.
The only bad thing to say is that it is simply not long enough. Short and oh so sweet, this collection of 5 dreamy songs wets the appetite for what will hopefully be and long a fruitful musical career.