Barry Adamson: Love Sick Dick (Central Control International)
Classy multi-instrumentalist throws us a fun-packed curveball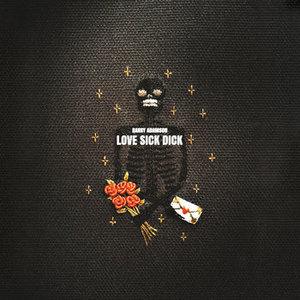 Former Bad Seed
Barry Adamson
has made his name creating jazzy, atmospheric soundtracks to films, both imaginary and otherwise. But while his new EP is as high-concept as ever, it dances - at least in part - to the beat of a different (funky) drummer.
Love Sick Dick
is a winning bundle of paradoxes. It's filmic but chock-a-block with hooks, moody but distinctly tongue-in-cheek... and oddly upbeat for a concept piece about a man wandering around lovelorn and disoriented during a long night of the soul.
Adamson plays, sings and samples every note here. Opener I Got Clothes sets the tone with hooky piano and jazzy, driving drumming as our troubled protagonist pours out his heart in a declamatory Cave-esque stream of consciousness. Its upbeat yet intriguing, like the opening scene of a film that hooks you in.
Second track Sweet Misery is a slight disappointment. A sleazy rocked-up funky groove with oodles of wah-wah, it's decent but slightly generic. The real humdinger is People Like Us, a baggy as fuck pastiche of almost every flavour of 90s grooviness. Banging piano riffs, loping Happy Mondays feel, Charlatans-esque Hammond solo, a filtered Fatboy Slim bit when it kicks back in... All this plus a funky drummer beat and a lyrical nod to Oasis too! Shamelessly postmodern and catchy as hell, it would be a massive hit in any just world, and is surely the most 'avin' it Mancunian moment since Shaun Ryder hung up his raving shoes.
It's now time for a breather, and Adamson takes it down a gear for the reflective On Golden Square. This postmodern take on a swirling '50s ballad sees our desperate protagonist ring his foul-mouthed mum for some early hours advice, channeling Pulp's Sorted for Es and Whizz in the process. They walk among us spaces out even further, as sobriety recedes into the distance. A moody tempo, malfunctioning synths and acidic undertones create a compelling slice of sleazy robo-noir.
As the last track commences, our addled anti-hero needs a plan. The glossy 80s- esque groove of One Hot Mess sees him torn between another one night stand or a fresh start, as symphonic Pet Shop Boys keys surge around him. How does it end? Well I guess you're just going to have to hear the EP. It's a schizophrenic little number but this quirky retro pop souffle, packed with juicy little details, is great fun.