Patti Aberhart: Holding Out (Self Released)
Ethereal gem combines shoegaze and suagary pop to wonderous effect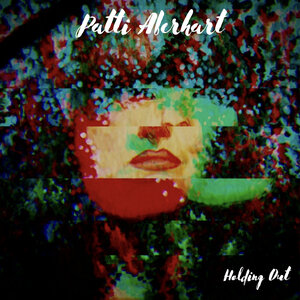 Deciding to release your own
hand-made
music is a very personal thing. When you think about it, it's a wonder anyone ever does! Baring your heart and soul, alongside a choice arrangement, painstakingly set out to create the perfect landscape for your lyrics. Yeah, that shit takes bravery!
So! When to drop a track from nowhere, no pre-gigging or fanfare for your art, best believe you have the cojones of a lion! Or, in this case, lady-cojones! *Insert a more PC analogy for your eyes here*
Yes, here we are with
Patti Aberhart
's very own (and very first!) labour of love. And we cannot get enough!
There can be no doubt that she has the talent to go the distance. With just with one listen, you will know this too. Elements of Joy Division, shoegaze and a underground injection of electroclash are blended in a big delicious sundae of sugary pop, with stealthy sucker punches being the blood-red cherries on top! It's the dreaminess of
Pale Waves
, with the bitter edge of Ian Curtis.
This is no mean feat. From the very first, a wall of sound attempts a barrier refusing to let you in. It's a warning. Beautiful yet firm, as the staccato cymbals give way. But we cannot be held back. The riff kicks in, and we find ourselves freefalling. Lyrics dig into the heart, littering the atmosphere with raw emotion: "
So why does it feel like I'm losing, I did everything that they said
" speaking to a void that we have all fallen into at times.
This dark but hopeful pop backbone catches you in the ribs, leaving you breathless. A stealthy sideswipe, complete with a baseline that weaves and undulates, encircling rhythmic electronics and a beautifully aching riff. A combination that whips around Patti's vocals.
Taking no prisoners at the bridge, the walls are fully down and Patti Aberhart's sultry tones etch yearning and wisdom through vocals "
I forgive you / time will kill you
". An aural storm eternally in motion, lyrics anchoring us with choral cries strategically placed, blowing in the winds of the outro.
You need this, on repeat. You don't know it yet, but you do. So go get it! And maybe Miss Aberhart will just grace a stage near you very soon… Stay tuned for more information on her upcoming EP!
Holding Out is available on all streaming platforms