Black Doldrums @ Quarry, Liverpool, 04.03.23
Post punk / psych rock Valhalla from North London backed by an excellent undercard featuring Frog Dylan and Liminal Project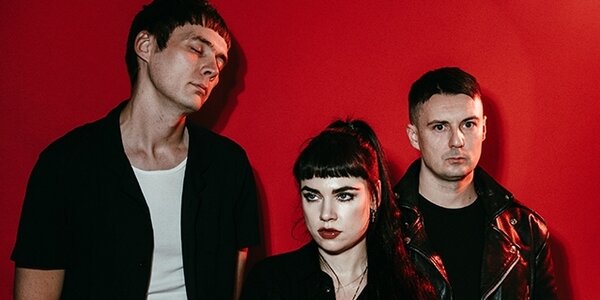 Commencing an evening under the disused railway arches at superb new-ish (the pandemic makes time elastic) multi-use venue Quarry,
Liminal Project
are first up. Comprising guitar, bass, drum machine and French language vocals from lead singer Roxanne, the trio evoke the simultaneously happy / sad atmospheres of mid 80s New Order and The Smiths. Specialising in twilit dream pop, the group's subtle songcraft insinuates itself into the memory banks deliciously.
Whether
Frog Dylan
count His Bobness as a direct influence (Froggy Went A-Courtin' is a fan favourite obscurity) is unclear, where they do bear a similarity is in their sung-spoken missives. Taking post-punk alloyed garage rock as a starting point, the outfit's intriguing approach incorporates tempo shifts and unexpected left turns.
Weaving dialogue samples into the tracks and featuring a Joel Gion-style tambourine man, like the Brian Jonestown Massacre the quintet possess a booming low end supplied by two guitars and a formidable bassist. Very early days for the group at present – they've yet to release any material – on this showing they sound like the finished article already.
The main event arrives and North London notables
Black Doldrums
take to the stage for headline duties, or at least two-thirds of the band does. Lead singer / guitarist Kev starts the set in the crowd, finding the sweet spot in the feedback before taking up position behind the mic stand. On the road to plug last year's sterling debut LP
Dead Awake
which supplemented their robust psych /post punk leanings with widescreen electronic textures, live the outfit conjure up a sound far greater than a three-piece. Emerging out of the smoke Mary Chain meets Depeche Mode rush Sad Paradise is a sleek, prowling alt. rock beast.
Machine gun drummer Sophie pushes the set forward relentlessly, her exacting tom-tom driven beats reminiscent of Siouxsie and the Banshees' tubthumper Budgie. Underpinning the sound with basslines that flex like suspension cables in high wind Matt stands stage right, while Kev's presence as frontman continues to develop, diverting into the audience at one point to distribute band stickers without missing a guitar lick.
With the new LP providing the lion's share of the setlist, the sinewy Eastern inflected guitar line and motorik undertow of Dreamcatcher captures where the three piece are at presently to superb effect. Perfectly framed by the refracted lights, red curtained backdrop and swirling smoke machine, It's A Dandy Massacre supplies the set closer as the trio venture off into the hills on an instrumental blast. With an extensive string of shows ahead of them on their next trip out the 'Doldrums' congregation deserves to have grown considerably.