Desperate Journalist: Live At JT Soar (Self Released)
Love Is Like A Heatwave: Exemplary London post-punks exhilarating live set captured for posterity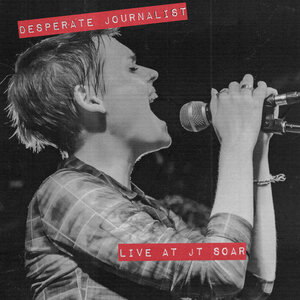 Purveyors of some of the finest indie rock action committed to wax over the past ten years,
Desperate Journalist
are far from slouches when it comes to live shows. Staged specifically for taping in front of a fifty strong audience at the titular Nottingham studio,
Live At JT Soar
, brings the gothic alt. rock types best moments together in one place.
Recorded in one continuous hit, not stitched together from several performances across several nights like the majority of live albums, the LP gives the effect of being at close quarters with the group. In addition to having to nail the set in a single shot, proceedings were given added piquancy by being tracked during the most extreme heatwave the nation has ever endured. Considering that their bass amp looked as though it might catch fire – no, really – at
a gig in Manchester
the previous week, the group's ability to jam their foot to the floor and not let up until the hour mark approaches is even more impressive.
Piloted by guitarist Rob Hardy's considerable skill, the spikiness of Fine In the Family and Organ contrast with the textural washes of The Victim and the Simple Minds-esque shimmer of Everything You Wanted. Pulled from most recent LP
Maximum Sorrow!
Fault, steered by Simon Drowner's spidery bassline and machine gun drummer Caz Helbert along with the astringent indie pop of Poison Pen and
Personality Girlfriend
demonstrates the group's continuing upward curve.
The group's hallmark element, Jo Bevan's laser sighted vocals, reach their apogee on the spiralling high notes of
Cedars
and customary set closer Satellite. The latter underlines the singer's lyrical ingenuity as the loudest audience vocal isn't for the chorus but the song's key couplet, "
Are you just excited the first ten times you meet me?
"
Effectively a digest of their progress so far, if you've yet to experience Desperate Journalist, this is the perfect primer.
5/5
Available from Bandcamp here
Desperate Journalist Links