Desperate Journalist @ Deaf Institute, Manchester 15.03.19
London indie post-punk outfit on stunning live form in Manchester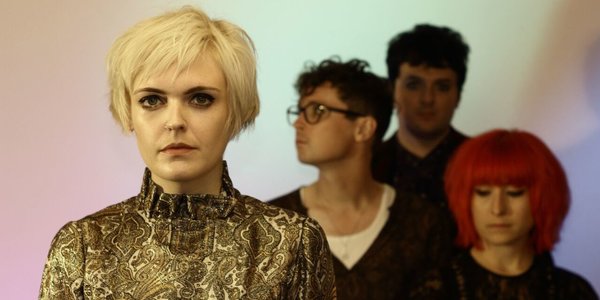 Walking on to the strains of Simple Minds' brilliant Theme For Great Cities (back when the 'Minds were a groundbreaking art punk outfit) London post-punk / indie conglomerate
Desperate Journalist
take to the stage at a full capacity Deaf Institute.
On tour to flog copies of superb new LP
In Search Of the Miraculous
(it clearly seems to be working judging by the merch stand sales), four-stringer Simon Drowner fires up the riff that powers colossal set and album opener Murmuration. Moving without pause into a thunderous version of the bitterly brilliant Why Are You So Boring? Rob Hardy armed with a baroque twelve string guitar seems to be lost in his own private reverie whilst simultaneously supplying the twisting guitar lines the songs are constructed around.
A singer whose live vocals match the acetylene torch cut-through of the recorded versions, lead vocalist Jo Bevan is a magnetic presence, her superlative lyrics in clear focus throughout. The singer also has an excellent line in stage patter, playfully admonishing the audience for their lack of enthusiasm when asked if they like Old Norse poetry ahead of Girl of the Houses. "Look, when I say Old, you say Norse! Old! (
Norse!
) Old! (
Norse!
). (Laughing) Right, that's the showbusiness portion of the gig over with then!"
Supplemented live by indie band stalwart Charley Stone on rhythm guitar,
Cedars
is classic Smiths/R.E.M. style indie jangle pop whilst the visceral Lacking In Your Love and To Be Kind possess a considerable emotional punch. The rapid-fire drumwork of Caz Helbert nails the beat to the floor throughout, making the most of Kosmiche influenced art rock leviathan To Be Forgotten and the stormy post-punk rush of Hollow.
Future indie disco banger Ocean Wave is the crowning highlight of the gig, concluding somewhat incongruously with Shanghai smog-like pink smoke that sees the drummer almost disappear from view. A heart-on-sleeve take on
Satellite
concludes the main set, Hardy's guitar solo a combination of Bernard Butler meets Tom Verlaine wiry melodicism. Returning for the encore, the dynamic rush of Resolution provides the final song of the night, the "
5-4-3-2-1 / And it's over
" hook chorused by the audience.
As a large crowd gathers stage front to get their albums signed as the lights go up, the feeling that Desperate Journalist's next UK wide excursion will surely be in more capacious venues grows. One of this year's best albums by a guitar band has the live show to match, put simply.
Desperate Journalist Links