Desperate Journalist, Night & Day, Manchester, 30.07.22
Top drawer post punk / alt rock as London luminaries headline in Manchester with The Empty Page in support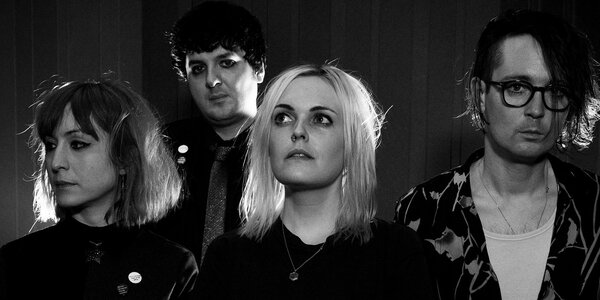 It's a bit bloody hot in here. Despite reports that the heatwave has passed, the atmospheric conditions at Mancunian independent music wellspring Night & Day are somewhat toasty this evening. The capacity crowd are likely to have had some bearing on this, as a busy room assembles early to see indie rock outfit
The Empty Page
on home turf.
The sound of US alt. rock by way of North West England, the group solder Sonic Youth, Pixies and Dinosaur Jr's most punked up moments together and serve it up in vociferously loud, confident fashion. A three piece for whom the term power trio is ideally suited, the tuff gnarl of their riffs are offset with soaring lead vocals.
As their regular walk-on music, Simple Minds' classic Theme For Great Cities blares from the PA, the imminent arrival of
Desperate Journalist
, is signalled and attendance peaks. Despite the heat seeming to be roughly the equivalent of an afternoon's soiree in Death Valley where the dresscode required a dufflecoat, the post punk specialists are impressively unphased. Launching into Hollow., Why Are You So Boring? one of the band's finest singles to date swiftly follows, succeeded by debut single Cristina.
Possibly due to the temperature, there's a definite heads-down, no-nonsense boogie attitude to Desp Journo's set, as they power through a digest of their catalogue, taking in an emotive rendition of The Victim and a furious Fine In The Family. As the number of Suede T-shirts in the crowd attests to, the current band have inherited Brett & Co's ability for infusing narratives about satellite towns and unforgiving cities with romanticism. The spoken word passages in possibly their two greatest tracks, caustic indie pop missives Personality Girlfriend and Poison Pen are delivered by superlative vocalist Jo Bevan in dazzling fashion.
A spot on sound mix illuminates guitarist Rob Hardy's alloy of arpeggiated chords and searing lead lines, bolstered by live rhythm guitarist Charley Stone. In the engine room Simon Drowner's wonderfully scuzzy basslines – his amp recovered from an earlier mishap where smoke was emitting from it one song in – reaches its apogee on Fault. Held together by Caz Helbert's exacting beats Armageddon, a fatalistic It's the End of the World As We Know It And I Feel Fine rumination of the possible forthcoming apocalypse supplies the highpoint of the evening.
A huge clamour for an encore sees the quintet return to essay Be Kind from 2015s
Grow Up
and romp through anthemic banger Satellite. Tonight's sold out status is hopefully a harbinger of things to come, as Desperate Journalist are deserving of the biggest stages possible.
Desperate Journalist Links