Desperate Journalist: Maximum Sorrow! (Fierce Panda)
Themes for great cities and satellite towns: London post-punk quartet deliver superlative fourth album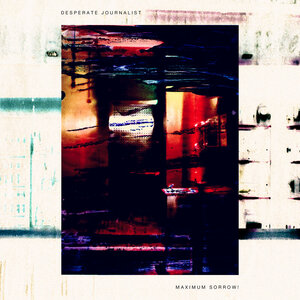 With a plethora of groups rallying under the post-punk banner over the past 18 months, specialists at the form since 2013, North London mavens
Desperate Journalist
have chosen the ideal time to resurface. Self-produced by the band with film composer Rollo Smallcombe in the engineer's swivel chair alongside them,
Maximum Sorrow!
sees the quartet hone their craft to perfection on their fourth LP.
Where the outfit's previous album, 2019s outstanding
In Search Of The Miraculous
was inspired by conceptual artist Bas Jan Ader's doomed solo voyage across the Atlantic, events here are firmly rooted on dry land. Primarily stuck in front of a laptop in various cities and satellite towns during the seemingly endless Work From Home era.
Taking its title from a piece by internet artist Kevin Bewersdorf whose works commented on society's increasing reliance on what was used to be called the Information Superhighway, the album chimes perfectly as lockdown begins to ease and a million "Is This The Future Of Work?" thinkpieces are published. Life affirming as opposed to despondent, like The Smiths and Suede on their superior to the album tracks B-sides, the present group excel at infusing even the most mundane surroundings with romancitcism.
Consisting of little more than solo vocal and electric piano, beautiful, low-key opening cut Formaldehyde, presumably drawing inspiration from Damien Hirst, leads into the bracing rush of
Fault
. An audacious lead single, the track serves notice of guitarist Rob Hardy venturing into new territory on the disc. Moving from jangle pop to plangent chords and on to sonic tapestries that incorporate shoegazing and synthesizer-style textural washes, Caz Helbert's ricocheting drumbeats and Simon Drowner's scything basslines hold proceedings together superbly.
Already a formidable singer and lyricist,
Maximum Sorrow!
sees a futher exapnsion of Jo Bevan's range. Indie rock stampede
Personality Girlfriend
which if there was any justice would've been A-listed by countless radio stations sees Bevan move seamlessly between skyscraping high register notes and a heart-on-sleeve spoken-word passage. The latter is a new development in the vocalist's approach, which reaches its apogee on alt. pop rush Poison Pen, the highpoint of the set and maybe their recorded output so far. Taking aim at one or several
DWEMs
, Bevan's bravura vocals and withering, pomposity-pricking lyrics "
Oh, venerated writer / Could your knighthood be much whiter?
" are matched with an indelible melody and a succession of spring-heeled guitar riffs to dazzling effect.
Juxtaposing Caz Helbert's Running Up that Hill evoking drum patina with the post-punk gloom of
Faith
era Cure, Armageddon is a suitably noir excursion into gothic pastures which contrasts the apocalyptic subject matter with one of the most uplifting choruses the group have penned. Anthemic new single Everything You Wanted meanwhile builds from its early Simple Minds-y staccato riff and chilly synth undertow to its title refrain. Changing gears entirely, Fine In the Family is a short, sharp blast that harks back to the jagged riffs of the band's early manoeuveres.
In calmer waters, the almost medicated guitar motifs of Utopia swathe a pen portrait of satellite conurbation ennui, "
The hollow sound / Of a one club town / And all the motorway does / Is curve around
". In similar fashion, The Victim underscored by acoustic guitars and luminous guitar figures glides past beautifully. The darkest track here What You're Scared Of is the sound of the morning after a dozen retina-burning Zoom work meetings the day before. Initially coalescing around a Radiohead-like arpeggio and pattering drums, the track tranfers via Bevan's astounding Bjork-esque vocalisations, into tougher, gnarlier terrain led by Simon Drowner's scabrous bassline.
Concluding in suburbia, the widescreen alt. rock of Was It Worth It? finds the band navigating "
Endless roads / On a dismal island
". Yet, from the evidence presented here of Desperate Journalist's interior world, there really aren't many other places you'd want to be. Everything You Wanted? Yep.
5/5
Desperate Journalist Links