Desperate Journalist: Grow Up (Fierce Panda)
Thrilling post-punk quartet blast back with excellent second album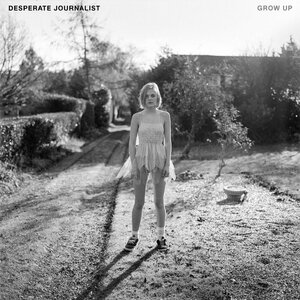 Named after a snarky take down by The Cure (Desperate Journalist In Ongoing Meaningful Review Situation) of NME writer Paul Morley's overblown diss of their
Three Imaginary Boys
LP, London based post-punk quartet
Desperate Journalist
turned heads with their sterling 2014 debut.
Wrapped in a cover that features a monochrome shot of lead singer Jo Bevan as a teenager in a party dress that almost looks like a still from a Jean Luc Godard film,
Grow Up
is a thrilling distillation of the group's windswept post-punk/alt. rock alloy. Rightfully placing Bevan's stentorian vocals up front in the mix, the quartet's expansive approach allows ample room for her frequently seething, occasionally tender lyrics to shine through.
The booming gated reverb drums of Hollow sounding akin to Duran Duran's Girls On Film provides a formidable opening salvo while the '
5-4-3-2-1/And it's over
' hook of Resolution second instantly embeds itself into the memory. The engine room of four stringer Simon Drowner (a nod to Suede?) and machine gun drummer Caz Hellbent power everything forward with sulphurous energy while guitarist Rob Hardy is an impressive presence, stamping his authority on metallic guitar lines redolent of Banshees/PiL axeman John McGeoch and jangling arpeggios akin to R.E.M.'s Peter Buck. The storming All Over takes in some well-judged axe heroics, splicing two solos together that blazes along like something from
Marquee Moon
.
The Smiths-ian likes of Be Kind and Your Genius highlight the band's softer side while the verses of Purple are beautiful ambient drifts that build to a cathartic chorus. Highlight of the set Why Are You So Boring? is a wonderfully scabrous demolition of (presumably) a former lover: '
Now I've done my time waiting in the fucking line listening to you sneer
' that blasts past in two and a half minutes and demands to be re-played immediately. I Try Not To is swirling gothic melodrama while Radiating, which features Bevan backed by nothing more than a solitary piano is a gorgeously downbeat finale. A progression on their impressive debut, with nary a duff track in earshot this particular Desperate Journalist is pretty much blown away.
Desperate Journalist Links