Twin Peaks @ House Party, Liverpool 23.02.15
Constantly on the road Chicagoans on exuberant live form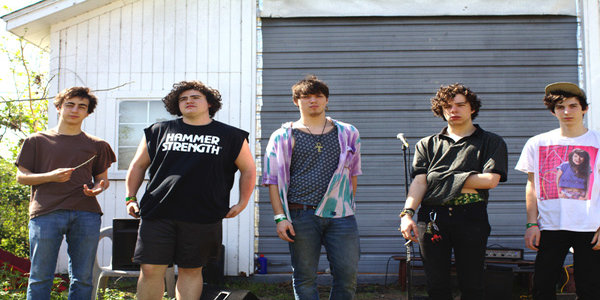 A pop-up venue so compact it makes the nearby basement gig space in The Shipping Forecast look like Wembley Arena, the cellar of a townhouse near Liverpool city centre wellspring Bold St. plays host to US new wave/power pop doyens
Twin Peaks
, playing house parties between UK dates.
With admission free via a Facebook guestlist and a stipulation that everyone has to be present by 10pm before the front door is locked, the event is about as far away from the corporate backdrop of exorbitant ticket prices and overpriced flat ale as you can possibly get.
The bludgeoning heaviosity of Merseyside eardrum botherers
Mothers
pummels the crowd into submission prior to the headliners, the trio honing in a clutch of piledriving riffs reminiscent of the chewiest, sludgiest bits of the Sub Pop roster circa 1989. Boasting a sandblasting sound that would make Mudhoney and TAD envious, people come stumbling out of the room at the end of the set en route to the smoking area/toilet/fresh air generally seemingly dazed.
While reviews of events like these usually reach for hackneyed phrases of 'chaotic scenes' and all round 'mayhem' with exaggerated tales of the police called, the power cut and thoroughly pissed off neighbours all round, the present set up is ran with admirable efficiency.
With patrons clearing the room to allow amps, guitars and bits of drumkit to be ferried in and out, Twin Peaks effectively show up, plug in and start playing almost immediately.
Despite visiting seven UK cities in as many days the collective energy level of the Chicagoans is exemplary, hurtling into the set and not letting up until the last notes ring out 35 minutes later.
Understandably swerving their more reflective moments in favour of more high octane material, the treble-led attack of the band's garage rock side comes to the fore, as 'Flavor' and a blitz through the already manic 'Fade Away' gain greater velocity live.
Huddled round the drumkit in the corner of the room, quite literally eyeball to eyeball with the 70 member audience, bassist Jack Dolan frequently points his guitar up towards the ceiling, less a feat of showmanship and possibly more an attempt to reach up the fretboard more easily.
A wired take on 'Telephone' recreates what Pete Townsend once described as 'music as pop art', while strutting renditions of 'Makin' Breakfast' and 'Good Lovin'' successfully plaits The Stones' swagger with the ramshackle energy of nineties US alt. rock.
The opening riff of
Wild Onion
lead off track 'I Found A Way' is greeted with whoops of recognition while the accusatory chorus hook of 'Strawberry Smoothie' '
Whatcha doin' baby/In the snow?
' is bellowed by the audience in unison.
Just over half an hour later the performance is over and a trip out into the rain washed backstreets beckons along with the firm conviction that come Twin Peaks' next visit to the city there won't basements be big enough to hold them.