Tom Vek & Olga Bell - Nothankyou (Moshi Moshi)
The much-loved Londoner returns with an angelic, New York songstress in tow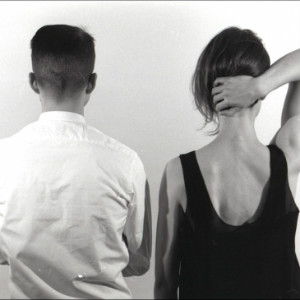 Know Yourself / Oyster
A certain level of fizzy buzz fills one's tastebuds when presented with nearly any composition by
Tom Vek
- like a flying saucer of tasty song hooks. Having spent nearly the best part of a decade in musical quarantine between the albums
We Have Sound
and
Leisure Seizure
(and you still can't help but wonder why), The Londoner's new collaboration project breathes out a fresh twist on the plot two years since his last outing. Vek's distinctive vocal twang wreaks a significant absence on this hefty sounding double-A side to make headway for the knock out voice of New York's
Olga Bell
. Bell is that someone you know you've heard somewhere but just can't put your finger on. You listen and wonder why her name hasn't popped up often before.
If there was only a certain chunk of this outfit you had to slice off and show everyone, it would undoubtedly be the ultimate chorus of 'Know Yourself' - it is pure nectar. With more cowbells than you can shake a stick at, and those guitar chord progressions that simply no one has dared recreate since the music of
Staind
et al went out like a wet fart ten years ago, every single component builds up together into an epic finale that disregards the fact the song only boasts three minutes in length. Instrumentally, it's Tom Vek all over; an enthused formula of multiple tracks and layers of guitar, synths and beats to create that one-and-only-spine tingler of a mood. Nevertheless, Bell's vocals become an equal talking point; she puts such a distinctive stamp on the sound, there are flairs and melodies you just wouldn't think to lay down unless you were…well…
her
.
'Oyster' is a slight on the more glitch-worthy side of things - an element of Nothankyou that was only a matter of time before hearing if we're honest. Bell, with her acrobatic stylings, once again gives a nod towards that strange paparazzi-attacking Icelandic singer, but with her own signature twists and turns thrown in. Vek makes an appearance vocally, alas to be shunted by his own tool, the delay pitchshifter, which is a shame, as it would have been sweet to hear both voices in proper dual force. Even some harmonies, perhaps. Oh well, if this is only a taster of what's to come afterwards then he's forgiven. Now remember Tom, no more disappearing acts, please.