Michael Paul Lawson: Wolf By The Tail (Wolf By The Tail Music)
New York State born, Virginia based singer/songwriter delivers excellent album trailering new single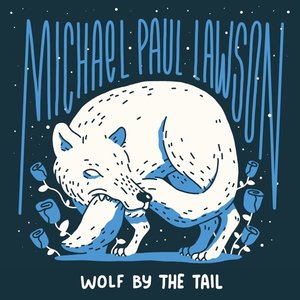 Michael Paul Lawson
hails from Norfolk, Virginia. But this is not where he grew up, or even spent most of his adult life. Yet it certainly seems to be where he got into his own stride.
Stride isn't the best word to describe the tempo of his music, however. His latest single Wolf By The Tail owns a slow, explorative pace. As a debut track from forthcoming album
Some Fights You'll Never Win
, set for release on July 12th, it sets up the record as wide-open soul searching. It seems as though swapping the thrust of busy New York State for the gentler pace of Virginia has allowed him the space to think, write, and perform.
By all accounts he has earned his chops as an artist, quickly gaining notable sets within Norfolk Folk Festival and providing opening support for Virginia born The Steel Wheels, and Sons of Bill.
Wolf By The Tail has all the marks of a tune you'll find yourself humming at some point the next day. It is low key, but rises at moments with the turmoil of the lyrics as he croons "
damned if I stick around, damned if I bail/ 'Cos loving her is like holding a wolf by the tail.
"
Delve into the arrangement after a few solid listens. Pulling back the covers on the warm strings and hushed drums, you can feel a chill in the arching keys. It is a complex and emotional set up, aching with the weight of the object of its affection.
We have many types of birthplace, and it seems the nurturing Virginia backdrop has given Mr Lawson plenty of space for a genesis of sorts. We hope that the forthcoming album will be as slick, searching, and heartfelt as his this single promises.
Some Fights You'll Never Win is released on July 12th
Michael Paul Lawson Links