run, WALK! / Sirs - Split 7" (Holy Roar / Topshelf)
Boston label Topshelf ally with the UK's own Holy Roar to release four blistering tracks from a couple of their best exponents of catchy yet brutal musicianship.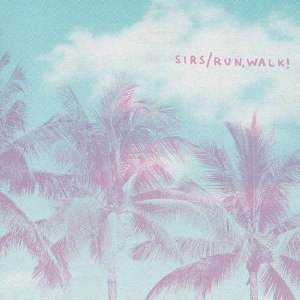 run, WALK! a duo that hail from pretty little Winchester, make the kind of music that is deliberately at odds with the Hampshire countryside. On 'Rainhouse' bassist/vocalist Matt P-Copley plays and sings like a man possessed, stringing together a series of effects laden hooks that use every bit of the speakers, looking for a way to jump out and bite you in the throat. He roars like the existentialist beast that missed out on dinner, it's far from pretty but is somehow still melodic and there is a subtlety in the phrasing that matches the cleverness of the musical arrangements that it both punctures and punctuates. Tom Clements' drumming is as key, instrumentally, as the bass. Cymbals splash wildly to further expand the spectral horizon, merciless pounding gives way for inventive and well-balanced work through the quieter sections. 'Straight Lines' is, as it name suggests, more direct. It might just be a noise-pop classic, though it has a dark edge that lives up to the 'death drone' tag that they have given themselves. These are well-produced songs from a band on the rise.
Sirs are from upstate New York and there are four of them - Justin Jurgens, Kyle Seely, Hart Seely and Mike Caridi. They offer more generic fare than the UK band; for the most part its indie meets punk rock. In a battle, the Americans may well be outgunned and outplayed, thankfully though, everyone is friendly here, and these two tracks sit well alongside their counterparts. At their best they even share similar qualities, hardcore influences creep in, and there are some great melodic intricacies to be found in amongst the noise and dynamic shifts that hold your attention. 'Bering Straight' rollicks along with gusto, layered guitars frame the melodic shout-y vocals and the slaps and ticks of a well-hit kit drive it forward before the track fragments, slowing down and leaving the raw tones of post rock guitar at the forefront. It's a seamless transition into 'Buzzard Kill (River)', which has a similar structure and leaves us with a short coda led by the lyric 'Trapped, in a time machine…' I only hope this doesn't halt their progression.