Crystal Fighters – LA Calling (Zirkulo)
London trio blow the lid off their latest album with second single 'LA Calling'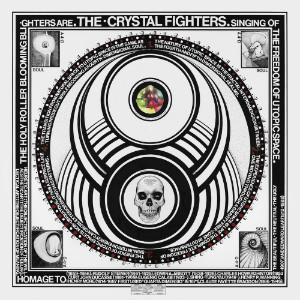 Crystal Fighters
returned to us recently with their long-awaited follow-up album
Cave Rave
, which was pretty much what everyone expects from a second album – not bad, but no patch on the first. Unlike most second albums however, there were some moments on Cave Rave that matched the brilliance of debut
Star of Love
.
One of these was the stunning pop gem 'You & I'. Admittedly, it did lack a little substance, but every so often right-place-at-right-time triumphs over all else - nothing more and nothing less than a killer summer anthem.
'Wave' hit the mark at times, too, with that spacey, all-encompassing epicness that you associate with Crystal Fighters, while 'Love Natural' stood out as sugar sweet and smile inducing, and 'These Nights' brought on the chill out.
But it was no Star of Love, it just wasn't. This was not an album that could survive on repeat for three months straight. It didn't distract you from other things you were doing and make you dance around your flat, nor did it stay in the car for very long and it certainly wasn't something you bonded with friends over. All except 'LA Calling'.
Simply put, LA Calling is why Cave Rave is worth buying. It's textbook Crystal Fighters - intelligent, layered, instrumentally diverse, uber-hooky, uber-fun, uber-summery pop music that's absolutely impossible not to groove to. And so it made perfect sense to save it for the second single - hit them with your second best song first, and your real crowd pleaser afterwards, always.
This reviewer saw Crystal Fighters live just a few months ago, having heard LA Calling about twice previous. When they played the track, in that moment, it suddenly seemed like the greatest thing ever. It happens to us all: when a song you barely know creates a whole new life of its own when you experience it live. Then, you're singing along really loudly even though you don't know any of the words and only a quarter of the melody. You're doing that because, one way or another, whether you like it or not, that's an incredible song right there.
Accompanying the single is the 'Curses' remix. Let's not mince words here; remixes can often fail to pique interest, but this one is good. The drums are pounding, the percussion sound in the intro is delicious and, in the right environment, it's not hard to imagine this working amazingly well.
So, yeah, LA Calling - go buy it, it's sure to temporarily make your life 10% more bearable.