Death Valley Girls: Islands in the Sky (Suicide Squeeze Records)
LA alt. rock stalwarts reach new heights on outstanding new set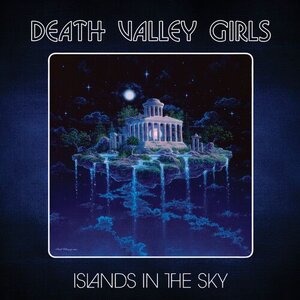 A going concern for almost a decade, Los Angeles outfit
Death Valley Girls
have proved to be a reliable source of psych infused, soul inflected garage rock par excellence.
New set
Islands In the Sky
similar to previous LP
Under the Spell of Joy
(2020) is loosely based on a theme. Where
Under…
had a thread revolving around dreams and incantations,
Islands…
is focused on spiritual fulfilment. Inspired by lead singer / songwriter Bonnie Bloomgarden being bedridden for several months in late 2020 to early 2021, the multi-instrumentalist strove to find the positives in such a long enforced layoff.
Sounding like the faithful being called to prayer opening track California Mountain Shake gets the group's finest set to date underway. Changes have been wrought on the band's sound with the utilisation of vocal harmonies, made possible with the arrival of new bassist / vocalist Sammy Westervelt. The hip-shaking
title track
shows the approach writ large, as does Say It Too which comprises largely of harmonies underpinned by Rikki Styx's subtle percussive work. Showcasing DVGs soul influences, psychedelic gospel stomper
Sunday
comes across as Stevie Nicks fronting Spiritualized, building to a glorious You Can't Always Get What You Want-esque coda.
Piloted by Larry Schemel's superb guitar wrangling,
What Are the Odds?
solders an earworm chorus on to a heads-down rocker, power pop banger
Magic Powers
meanwhile recalling Elastica's wedding of staccato vocals to surging New Wave-y songcraft sees Westervelt step up to take lead vocals. Changing tack the evocatively titled Journey to Dog Star invoking visions of the
Stargate Sequence
towards the end of
2001: A Space Odyssey
is an atmospheric swirl of swampy organ keys and Eastern-tinged instrumentation guided by siren-like vocals. Staying with the era, When I'm Free anchored by Doors-style keys and Schemel's inspired guitar lines is glorious 60s tinged psych rock.
Led by Bloomgarden's heavily reverbed lead vocals and buoyed by cooing harmonies, minor key gem All That Is Not Of Me possesses a haunting power ("
Let it all wash away / Watch it all wash down the drain
") that emerges on repeated listens to become one of the group's finest moments. The skipping rhythms of upbeat missive It's All Really Kind Of Amazing sees the end credits role, an apt title as it doubles up as a capsule review.
4/5