Death Valley Girls: Under the Spell of Joy (Suicide Squeeze Records)
Hollywood Babylon: LA psych / noir outfit make superb return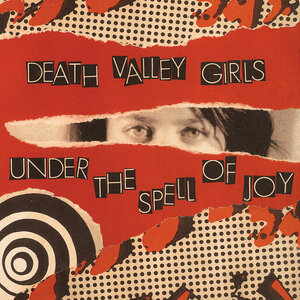 The fourth LP from singer / multi-instrumentalist Bonnie Bloomgarden and guitarist Larry Schemel,
Under the Spell of Joy
sees
Death Valley Girls
tap deeper into the rich history of their home city of Los Angeles.
Intertwining a strain of LA noir that has produced countless classic albums and films with the dreaminess of Laurel Canyon, the group maintain the quality exhibited on 2018s
Darkness Rains
.
Led by Bloomgarden's excellent lead vocals, the perpertully ascending
Hypnagogia
sets the tone for an album deeply inspired by dream states as the titles underline: I'd Rather Be Dreaming, Dream Cleaver, Bliss Out and the
title track
. The latter constructed around a riff that recalls Floyd standard Money and a children's chorus chant that evokes a playground skipping rope rhyme, showcases the spiralling sax work of guest player Gabe Flores.
Changing gears the Phil Spector-esque Bliss Out is Shangri-La's stye teen heartbreak, while It All Washes Away showcases their dynamic chops, a Sweet Jane / Velvets motoric rocker that sets off on the offbeat and stays there, a simple enough device but difficult to pull off effectively.
Augmented by keys player Gregg Foreman, the atmospheric Hey Dena is heat-hazed desert noir while
The Universe
is star-gazing space rock. Piloted by Larry Schemel's redoubtable guitarwork upbeat stompers
Hold My Hand
and Little Things where Bloomgarden sounds like
Tusk
-era Stevie Nicks highlight the group's sure grasp of guitar pop. Venturing into gnarlier territory 10 Day Miracle Challenge boasts the punchiest riffs on the LP as Schemel serves up a marvellously scabrous central motif and off-kilter axe solo.
One of the set's strongest cuts doomy torch song I'd Rather Be Dreaming meanwhile hinging on Bloomgarden's breathless "
I like you / No matter what you do / I like you / It's true
" is underscored by Foreman's gothic keyboard patina sounding like the
pipe organ
from Norma Desmond's
Sunset Boulevard
mansion.
An incantation well worth experiencing.
4/5