Arthur Russell: Picture of Bunny Rabbit (Audika Records)
Late, lamented avant-disco legend makes deeply introspective, one-of-a-kind music for himself alone…if we keep quiet, we may be permitted to eavesdrop…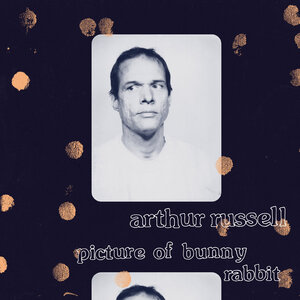 The late, great
Arthur Russell
had a funny old career, producing timeless dancefloor anthems and more esoteric music of many stripes while collaborating with icons such as Allen Ginsberg, Studio 54, DJ Nicky Siano and David Byrne. He was also a studio fiend who preferred to tinker endlessly than actually release tunes, hence the proliferation of retrospective compilations like
Picture of Bunny Rabbit
, which collects material he made during sessions for his 1986 album
World Of Echo
.
A mixture of instrumental and vocal tracks, these odd, alternately jarring and beatific pieces sound like the unfiltered unconscious coming up for air. This is deeply uncommercial stuff, more concerned with elaborating an emotion or meditating on a feeling, than connecting to a mass audience. Landing somewhere between modern classical, ambient, jazzy balladry and the avant-garde, it sounds like it's essentially made for an audience of one – Russell himself – and is being overheard by accident.
There are two main moods here: part-sung, tender and dreamy musings such as Not Checking Up (where Russell's blurred, softly enunciated vocal sounds like a less drunk John Martyn) or The Boy With A Smile, are full of love and thoughtfulness. Russell was diagnosed with HIV+ shortly after these recordings were made (he died in 1992) and as a gay man in the New York of the 80s, he undoubtedly had a lot to mourn – making it all the more vital to treasure every passing moment and everyone he loved. These aren't songs as such: he circles around a phrase or idea, elaborating and repeating as a mood is established.
The instrumentals (often called Fuzzbuster - #06, #09 etc) sometimes sound like sketches, alternating between spacious modern chamber music with repetition and echoes of Eno, and more disturbing pieces. Fuzzbuster #09 sounds like the Velvet Undergound at their most Cale-centric – while at over eight minutes, the title track's drones, clicks and industrial overtones sound like normality is breaking down and the world is coming to an end. But love saves the day: the last track, In the Light of a Miracle, is mantric in its repetition as it reaches for transcendence, a beautiful way to conclude.
This album is mood music alright, but the mood is sometimes difficult to quantify. Russell sounds entranced, lost in contemplation on a higher plane, listening to
Picture Of Bunny Rabbit
almost feels like we are intruding.
4/5