Death Valley Girls: Darkness Rains (Suicide Squeeze)
Californian garage rock outfit showcase the dark side of the Golden State on sterling third LP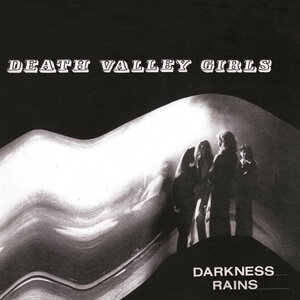 Principally comprising vocalist/multi-instrumentalist Bonnie Bloomgarden and guitarist Larry Schemel, L.A. based outfit
Death Valley Girls
self-described (and spot on accurate) calling card is "California doom boogie".
A contemporary take on the darker side of the late 1960s/early '70s rock canon: Doors, Airplane, Stones, Stooges plus elements of noise rock and ZZ Top riffage (Billy Gibbons receiving long overdue praise)
Darkness Rains
is the group's third LP. Like their antecedents, DVG keep things succinct, their dedication to keeping things economical sees (One Less Thing) Before I Die compress a full blown song into just over ninety seconds.
Marvellous lead single Disaster (Is What We're After) an after-hours boogie supplemented with horn section and handclaps suggests the basement of Keith Richards' villa at Nellcôte packed full of guests to contribute to choruses on
Exile On Main St
. Proof of the group's pulling power, treasured band influence Iggy Pop features in the
video
, a pop art homage that doffs its cap to Andy Warhol.
The descending guitar figure of the creepily atmospheric Abre Camino, a brand of incense sticks which translates as open road recalls Jefferson Airplane's spooked classic White Rabbit while the spectral Ray Manzarek-style organ keys of Occupation: Ghost Writer conjures up The Doors at their most sepulchral.
The brittle guitar textures of Born Again and Again is redolent of
Daydream Nation
era Sonic Youth while Wear Black is an excellent garage rock rush. Street Justice, which sounds like something scrawled on a wall in Haight-Ashbury circa 1967 is one of the best moments here, a supercharged rocker powered by a twisting guitar line that showcases Schemel's impressive axe wielding.
Underpinned by a groove reminiscent of rock n' roll standard Shakin' All Over, the distant siren-like vocals of TV in Jail On Mars provides a hypnotic farewell. A short, sharp blast,
Darkness Rains
is something of a riot on sunset strip, all told.
8/10