Wild Nothing @ Band on the Wall, Manchester, 16.06.16
US dream pop outfit return to the UK in support of third LP Life Of Pause
Jun 17th, 2016 at Band on the Wall, Manchester / By
Richard Lewis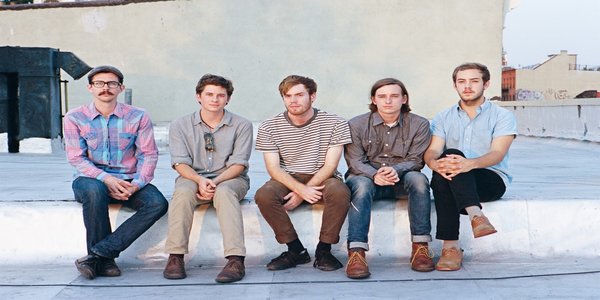 A capacity crowd greets Blacksburb, VA dream pop crew
Wild Nothing
on to the stage at estimable gig space Band on the Wall, their last UK tour date on their current pan global trek to plug the band's third LP
The Life of Pause
(
review
).
While the album like its predecessors was recorded almost entirely solo by lead singer/guitarist Jack Tatum, the band have grown from its initial bedroom project into a fully-fledged live quintet.
Last year's album previewing lead single To Know You opens proceedings, its vocal melody hinting at Talk Talk classic It's My Life. With the bulk of the setlist drawn from the new LP, Tatum is clearly more comfortable in his role as frontman compared to his slightly nervy live appearances a few years back (
live review
), the more the audience respond the more the singer does in turn, becoming more animated as the set progresses.
Tatum's best tracks combines wistful melancholia for past youth while imbuing the songs with an woozy shimmering atmosphere that effectively condense Sophia Coppola soundtracks into abbreviated form.
While the recent LP isn't quite as strong as its dazzling 2012 predecessor
Nocturne
, the newer material transfers easily to the stage, the gorgeous guitar textures that underpin the tracks are in hi-def focus, you know your sound is good if someone takes the trouble to photograph your pedalboard set up (as one fella does after the band depart the stage).
The swooning synthesized strings that herald the opening of Paradise is greeted with cheers, while the effervescent synth textures and low-slung funk bassline and repeating marimba figure of Reichpop (its title a homage to composer Steve Reich possibly?) work brilliantly live.
Only Heather is a standout, its gorgeous rush of cushioning keyboards and understated vocal melody perfect ear balm while early landmark Summer Holiday played last before the encore scores the biggest reception as the entire venue adds augments Tatum's wordless chorus hollers.
Roboticist's love song Japanese Alice heralds the start of the encore, while the title track from
Life of Pause
and live stalwart Shadow bring the show to a close. While a few more back catalogue gems, (including tracks from the wondrous
Empty Estate
EP
review
) would have been appreciated, Wild Nothing's already none-too-shabby live show grows stronger with each tour.