Wild Nothing – Empty Estate (Captured Tracks)
Jack Tatum's dream pop project return with summery new EP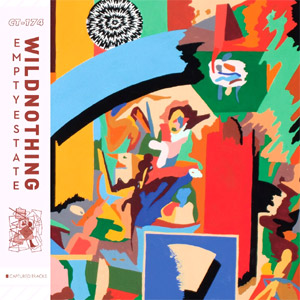 Jack Tatum, the head honcho of
Wild Nothing
, has usually found himself on the right side of music critics. 2010's
Gemini
and 2012's
Nocturne
were hugely lauded – the latter ending up on many end-of-year lists – and he's such a blogger's darling that any rumblings of new material are treated like the announcement of a new Daft Punk record or the promise of free cake at a fat guy convention. Rightfully so, given he's a dab hand at sculpting effervescent synth-pop fizzing with throwbacks to the '80s and pangs of electronica
Less than a year after
Nocturne
hit the e-shelves, we've got a hefty EP in the form of
Empty Estates
. At seven tracks, it almost qualifies for an album. Tatum has spoken of being able to realise the ideas he'd originally conceived for
Nocturne
with the EP, and being able to fulfil his original intentions. Presumably he's referring to the tone and overall 'feel' of the two collections. Whilst his previous LP was caked in maudlin synths and dour tear-drenched lyrics about loss,
Empty Estate
injects a welcome optimism into Wild Nothing's repertoire.
'Ride' is jangly summer indie-pop with a locomotive motorik and star-spangled glam synths. It's not exactly imbued with glee, but there's a notable alteration from Nocturne's fascination with gloom. It's got a sci-fi twist via electronics and bouncy arpeggios, and although it does still have those '80s idiosyncrasies, they're not as blatant or derivative. 'Ocean Repeating (Big-Eyed Girl)' features three interweaving strains of off-kilter melody: firstly there's neo-dance synths, then there's Duran Duran-y funk-ish bass, and, finally, crooked bouts of anxious guitar riffs. Everything feels ominously spiky and serrated, but despite the disjointedness of it all, the cut succeeds at being one of the most accessible, pop-oriented things that Tatum has leant his hands to.
The EP marks a detraction from the previously morose noises. The '80s-ness is restrained, and it's less Smiths/Cure-type sounds on offer, and more of the cheesy pop of the era – big hooks, glorious vocals and strong beats. There are still portions of experimentation – 'On Guyot' is essentially ambient electronica, and 'Hachiko' is Eastern-tinged post-rock – so those diehard stalwarts resisting change will still find something of value here. Maybe
Empty Estate
is only a brief sojourn into the realm of summery pop for the outfit, but regardless, it's a pleasant addition to the catalogue of
Wild Nothing
.