Wild Nothing - Life of Pause (Bella Union)
US alt.pop project return with impressive synth-pop steeped third LP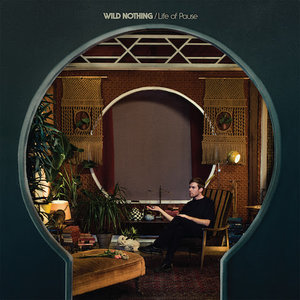 Serving notice of their arrival via their beguiling cover of Kate Bush classic 'Cloudbusting', US dream pop outfit
Wild Nothing
have progressed well beyond the bedsit indie of their early work.
As debut LP
Gemini
(2010) and its superlative successor
Nocturne
(2012) proved, Jack Tatum (Wild Nothing in all but name on disc) has the songwriting wherewithal to more than match the surface dazzle of his records.
The band's excellent, if slightly overlooked 2013 EP
Empty Estate
clearly provides a bridge to the current set, as Jack Tatum continues his voyage into synth powered 1980s inspired pop.
Produced by storied American desk jockey Thom Monahan (Vetiver/Johnathan Wilson), having clearly grown in confidence as a vocalist, Tatum's voice is pushed higher in the mix than before, while the immaculately tooled beats are a world away from the 'Hey-we-found-this-old-drumkit-in the-cellar' sticksmanship of early tracks 'Summer Holiday' and 'Live in Dreams'.
Setting out its stall early on, 'Reich Pop' commences with a aerated synth loop highly redolent of Tear For Fears' early landmark 'Change'. More Eighties tropes abound meanwhile in the weeping synth textures that underpin 'Alien', reminiscent of Giorgio Moroder's score for the decade's keynote gangster flick
Scarface
. While these elements are readily apparent, crucially they become part of the band's sonic identity, instead of coming across as pastiche.
Hinting at the band's more guitar driven earlier albums, the combination of propulsive riffing and woozy atmospherics on 'Japanese Alice' is a delight, the '
uncanny valley
' chorus refrain paying homage to roboticist Masahiro Mori and his concept on the point on a graph (the 'valley' in question) between a toy robot and a human, where an automaton becomes life-like.
Led by an irascible bassline 'To Know You' has a vocal melody reminiscent in places of Talk Talk's sublime 'It's My Life', the extended six minute running time presumably set to become a cornerstone of the band's live set, similar to 'Paradise' from
Nocturne
.
The day-glo synths and insistent chorus of the title track and the urgency of 'TV Queen' are amongst the most all-out pop songs the group have produced to date, while the lolloping groove of 'Love Underneath My Thumb' somehow cross-stitches synth pop with psychedelia into an inspired alloy.
Whilst maybe not quite as vivid as the sublime
Nocturne
,
Life of Pause
does more than enough to ensure Wild Nothing will remain together in electric dreams for the foreseeable future.