Ride @ The Ritz, Manchester 28.04.22
Shoegaze pioneers celebrate landmark debut LP Nowhere on tour, dream pop mavens bdrmm supply superlative support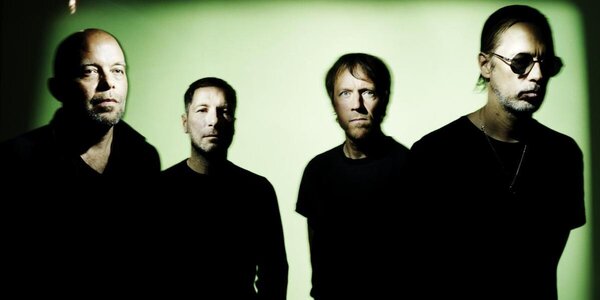 "Hi, we're
bdrmm
from Hull". While the early doors 19:45 start time would usually have wrong-footed some gig patrons, the crowd at The Ritz have shown up early to see the Humberside dream pop outfit. Greeted with a near capacity room, the quartet make an audacious start to their set, opening with a sonic leviathan of a new track. A mass outbreak of head nodding ensues as the quartet segue seamlessly into Push/Pull from 2020s outstanding
eponymous debut
.
The road miles logged since bdrmm's debut UK
headline tour
last year, playing full rooms supporting Ride every night has clearly worked wonders on their already impressive stage show. Singer Ryan Smith in red beanie hat stage left delivers his vocals in commanding style, the harmony vocals with bassist / keys player Jordan Smith reaching their apogee on a superb rendition of Happy.
Further underlining their confidence is the presence of a trio of new songs in the eight track setlist, presumably a quarter of their second LP. The loud / quiet dynamic of Picky New One developing from its battering ram intro into a Radiohead-esque arpeggio, has its oscillating time signatures steered by Conor Murray's on-the-money drum work. The refracted guitar figures and harsh syndrum crack of Port, evoking Machine Gun by Portishead concludes with Smith whirling his bass above his head to generate feedback, possibly doubling up as a useful deterrent for any would-be stage invaders.
Guided by swirling textures courtesy of Joe Vickers' pedalboard, set closer A Reason to Celebrate, is buoyed by a sizeable audience chorus. Continuing their rapid ascent, bdrmm will almost certainly be headlining venues this size by the middle of the decade and any doubters can eat Ryan's beanie hat.
"Hi Manchester, we're going to play
Nowhere
" lead singer / guitarist Mark Gardener announces as
Ride
appear on stage and the plangent opening chords of Seagull are struck up. The thirtieth anniversary tour of the shoegaze titans landmark 1990 debut LP, delayed for understandable reasons sees the quartet playing to an even bigger crowd than on their last trip to Manchester in 2017.
Piling through the gorgeous noise of Polar Bear, Dreams Burn Down and Paralysed in consummate style, the venerable venue's sprung wooden floor assists with the mosh pit that emerges halfway through the set and persists for the remainder of the gig.
Retaining their plaintive appeal, Mark Gardener's vocals are unchanged since the early nineties, his rhythm playing meshing beautifully with Andy Bell's lead guitar lines and harmonies. Drummer Loz Colbert is on spectacular form, his playing ranging from the loose limbed Keith Moon-isms of garage rock rush Taste to the rigid timekeeping of wonderful synth assisted sliver Lannoy Point. Redoubtable bassist Steve Queralt like Bill Wyman and John Entwistle before him and fellow Oxfordian Colin Greenwood in the present day, ensures everything stays on track.
Essaying the eleven track version of
Nowhere
, Vapor Trail which concluded the original eight song vinyl edition sees the entire audience join in on the traditional chorus of the of the string section melody, prompting a round of applause from the band.
Returning for the encore, the quartet take a magpie approach to their catalogue. Requested by bdrmm, arguably Ride's greatest single, the psych rock meets Byrdsian jangle of Twisterella, somehow outdoes even its studio version. An excellent juxtaposition of industrial tinged banger Kill Switch from 2017s
This Is Not A Safe Place
and Unfamiliar from 1991 showcases the group's development while retaining the thread between the disparate tracks.
A monumental take on eight minute epic Leave Them All Behind last draws a line under a incredible set. A vivid demonstration of one of the genre's greatest albums, is there any chance we could have an anniversary tour of 1992 behemoth
Going Blank Again
next please?