bdrmm @ Future Yard, Birkenhead, 30.10.21
Estimable shoegaze outfit bdrmm on dazzling form for their debut UK headline tour, Mildred Maude provide excellent support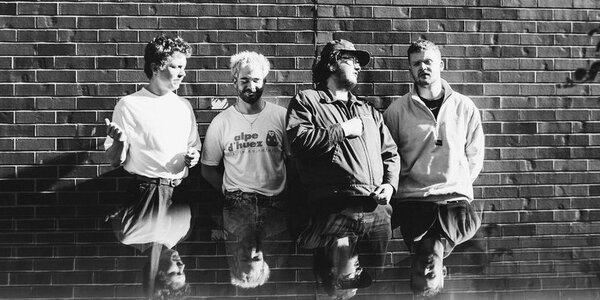 With a name that suggests a lesser-known character from a Victorian novel (an acquaintance of
Agnes Grey
possibly?), improvisatory alt. rock trio
Mildred Maude
like the Brontë family hail from similarly evocative landscapes. Comparable to the way the Brontë's Yorkshire-set novels had a strong sense of place, the same goes for the present group from Falmouth, Cornwall.
The expansive ebb and flow of the Sonic Cathedral signed outfit evokes the feeling of a soundtrack to wide-open vistas. Comprising of guitarist Matt Ashdown, bassist Lee Wade and drummer Louie Newlands, their instrumental surges are delivered in one continuous blast, the trio simmering the tracks before bringing them to a rolling boil.
Taking the material from recently issued debut LP
Sleepover
as a starting point then seeing where it takes them, the three-piece are completely engrossed in the performance, Ashdown whirling his Fender Jaguar around, throwing himself towards wherever the sweet spot in the feedback is. Glen Plays Moses (presumably named after No Wave doyen Glen Branca) sees Ashdown employ the classic Sonic Youth fashion for playing the guitar with a screwdriver jammed under the bridge. The final stretch sees the 'Maudes' membership briefly increase to five as bdrmm guitarists Ryan Smith and Joe Vickers jump onstage to join in with the maelstrom.
Good things come to those who wait according to the adage and so it proves for headliners
bdrmm
. After the pandemic scuppered their tour plans twice over, the quartet's re-re-re scheduled tour sees the Hull / Leeds ensemble playing to full rooms almost every night. The attendance at superb, newly minted Birkenhead venue Future Yard is no different as the group take to the stage in front of an near capacity crowd.
Gradually building from its refracted synth pulse, Momo guided by Conor Murray's unfussy, pinpoint drumwork segues like the LP into the tick-tocking guitar arpeggios of Push / Pull. Singer / guitarist Ryan Smith stood stage right supplies rhythm, while the nimble footwork of lead axe slinger Joe Vickers in front of a suitably formidable pedal board adds swirling drama. Bringing an expansive viewpoint to the material, multi-tasking bassist Jordan Smith contributes keys and additional vocals.
While the lion's share of the set is understandably drawn from last year's glorious (almost) eponymous
debut LP
, a smattering of new songs shows that bdrmm have the makings of an excellent follow up. Dynamic new single
Port
pairs a prowling bassline with cold electronica and treble-ly guitar interjections that showcases' Smith's best vocal performance to date. A beautifully melancholic rendition of Gush ("
It's not that I didn't try to keep my shit together
") and the slow-motion glide of Is That What You Wanted To Hear? anchored by a rumbling tom-tom pattern showcase the band's strength as texturalists.
A sped-up take on propulsive post-punk gem Happy, building in power as it progresses is immediately succeeded by its downbeat Cocteau Twins-esque flipside (Un)Happy. A Reason To Celebrate, the sound of a jet engine roar welded to a delicate pop song airs last, prompting an audience chorus on the track's "
It's OK for you / To walk away
" refrain. The first time virtually everyone here has seen bdrmm live, their Merseyside debut concludes with huge applause. So, Is That What You Wanted To Hear? Most definitely yes. A thousand times over.