Mark Peters @ Future Yard, Birkenhead, 19.09.22
Ambient / shoegaze doyen live on Merseyside, the region that inspired his recent output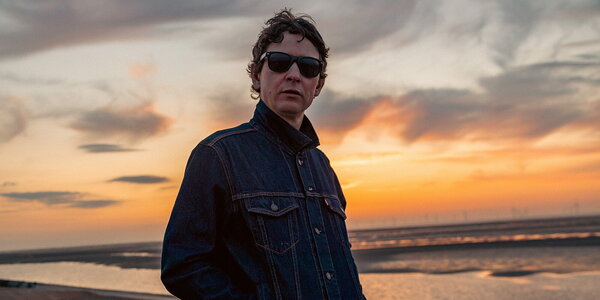 Heading over to Birkenhead via train to Future Yard, the view exiting Hamilton Square station provides the ideal entre for tonight's gig. While the world famous ferry terminals, two cathedrals and the Albert Dock are visible from this side of the river, it's the less celebrated locations behind these landmarks are chronicled in this evening's show.
For a songwriter whose work draws inspiration from landscapes of the North West,
Mark Peters
swerves praising places and buildings which have already been deservedly enshrined in song. Peters' recent solo LP
Red Sunset Dreams
the cover of which was shot on the coast of the Peninsula, focuses on lesser known locations in the city and its outskirts, paying tribute to Liverpool's long standing fascination with Americana.
Entirely instrumental, with a mic set up to issue a few Thank You's, the album is brought to life onstage with Peters on guitar, Chris Smith on drums and Dean Roby on bass with sparing pre-recorded additional textures. Kicking off on home turf, the set opens with Ashurst Beacon, an 18th century watchtower not far from the singer's manor in Wigan.
Bathed in gold and purple tinted footage from vintage Westerns on a back projection screen, The Musical Box and Switch On The Sky from the new record meander along beautifully. Taking in earlier tracks (landmarks would probably be better suited) from 2017s impressive debut set
Innerland
, Mann Island, and May Mill are skilfully rearranged to take in the live band set up.
Crucially, the set doesn't all proceed at the same pace, the variations in tempo and song structure underlining Peters' songwriting wherewithal. While the gorgeous guitar patinas could've been slightly louder in the mix, the three-piece are superbly well drilled. An element that becomes increasingly impressive as the gig proceeds is the quality of the rhythm section, Smith deftly pushing the tracks forwards, Roby content to pedal away on two notes if that's all the song requires, adding embellishments when necessary.
The finest track from the LP Sundowning, sans Dot Allison's swooning vocals retains its otherworldly beauty, the cut giving way to a concluding jam guided partly by the trio nodding to each other for cues and partially by telepathy. Like the record that spawned the tracks, in a live setting the songs are a triumph of subtle, understated musicianship, their melodies lingering long in the memory.