Mark Peters: Red Sunset Dreams (Sonic Cathedral)
Engineers alumnus returns with evocative second solo disc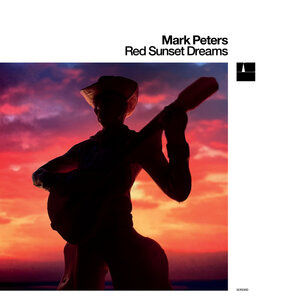 The second solo disc by Engineers' mainman Mark Peters,
Red Sunset Dreams
develops the themes established on his sterling 2018 debut set
Innerland
. Drawing inspiration from lesser known locations in the greater Merseyside region, the present disc pairs Peters' ambient textures with woozy Americana.
Paying tribute to Liverpool's deep seated fascination with country music (George Harrison was a huge fan of guitar legend Chet Akins), the LP re-routes Nashville to the North West and evokes the wide open expanses of the US. Along for the trip is Dot Alison whose gorgeous, diaphanous vocals lead album bookends
Switch On the Sky
and Sundowning. Elsewhere one of the UKs greatest session players BJ Cole, imbues Silver River with beautifully played lap steel.
Golden Cloud is redolent of Sufjan Steven's earlier works, where a simple banjo figure gradually uncoils over several beatific minutes. Dusty Road Ramble showcases Peters' skill as a guitarist, wringing the maximum out of a series of delay pedal figures. The Musical Box tips its Stetson to Liverpool's longest running record shop, notable in the pre-Merseybeat era for its wealth of US country imports.
The material at points calls to mind Brian Eno/ Roger Eno and Daniel Lanois's groundbreaking Apollo: Atmospheres and Soundtracks which birthed the classic Deep Blue Day, a long standing soundtrack fixture. A rich seam that looks set to yield further rewards, Peters' exploration of the Mersey Delta continues apace.
8/10