Mark Peters: Innerland (Sonic Cathedral)
An instrumental set inspired by North West England, the solo debut LP by Engineers' mainman is a slow burning triumph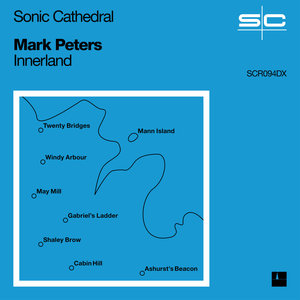 Solo following a decade long tenure in underrated dream pop sorts Engineers,
Mark Peters
issues his first solo LP, a woozy collection of instrumentals, inspired by his return to living in the North West of England. Given its initial history as a limited-edition cassette, its appearance as a full-blown album owes to its positive reception on release and inking a deal with redoubtable London label Sonic Cathedral, an outfit who have done much to revive shoegazing in the 21st century.
Redolent in places of Talk Talk, the father of ambient music Brian Eno and The Blue Nile's textural pop, Peters' guitar work coaxes out gentle melodic motifs that possibly rival the moments when Nick McCabe was permitted to truly let rip on The Verve's records. That Peters happens to be a dab hand at this kind of material doesn't come as a surprise given his frequent collaborations with revered German producer Ulrich Schnauss and Engineers' work, especially 2014s critically acclaimed
Always Returning
showcases the group's atmospheric, textural approach to songwriting.
Including two new tracks not on the original cassette, the wonderful Gabriel's Ladder is the sound of the sun coming up through the mist at dawn, while
May Mill
named after a demolished cotton mill in Wigan is a similarly valuable new addition. Mann Island, the thoroughfare that connects the Pier Head to the rest of Liverpool (named after a bus journey there in the 1980s possibly?) is the highpoint, the sound of Vangelis' ground breaking Blade Runner soundtrack juxtaposed with The Verve's Stormy Clouds.
The journey concludes at Ashurst's Beacon, a suitably high vantage point to gaze down on the locations visited on the journey. A slow burning triumph which lingers long after the record finishes, filmmakers in need of a soundtrack composer are advised to investigate the present album forthwith.
8/10